I didn't have a lot of success when I got out fishing this past week. I did manage to get some nice kokanee and a cutthroat on Lake Chelan, and a really nice rainbow on Lake Roosevelt. This is just the beginning of winter fishing on both of these waters. It is shaping up to be a great season.
As we move further into winter there are plenty of options for anglers. Whether you still have your boat in service, or if you are planning to fish from shore, there are fish to be caught on several waters here in Central Washington. High on many boater's list is the kokanee fishing on Lake Chelan. Fishing should be good above the Yacht Club at the area known as The Stairs. Fish are deep now. The last time I fished up here I got fish as deep as 130 feet. I fished from shore on Lake Roosevelt at Keller last week, and I am sure I would have done better if I would have been trolling here. There are still good days right now and fishing will get better and better as the lake level drops.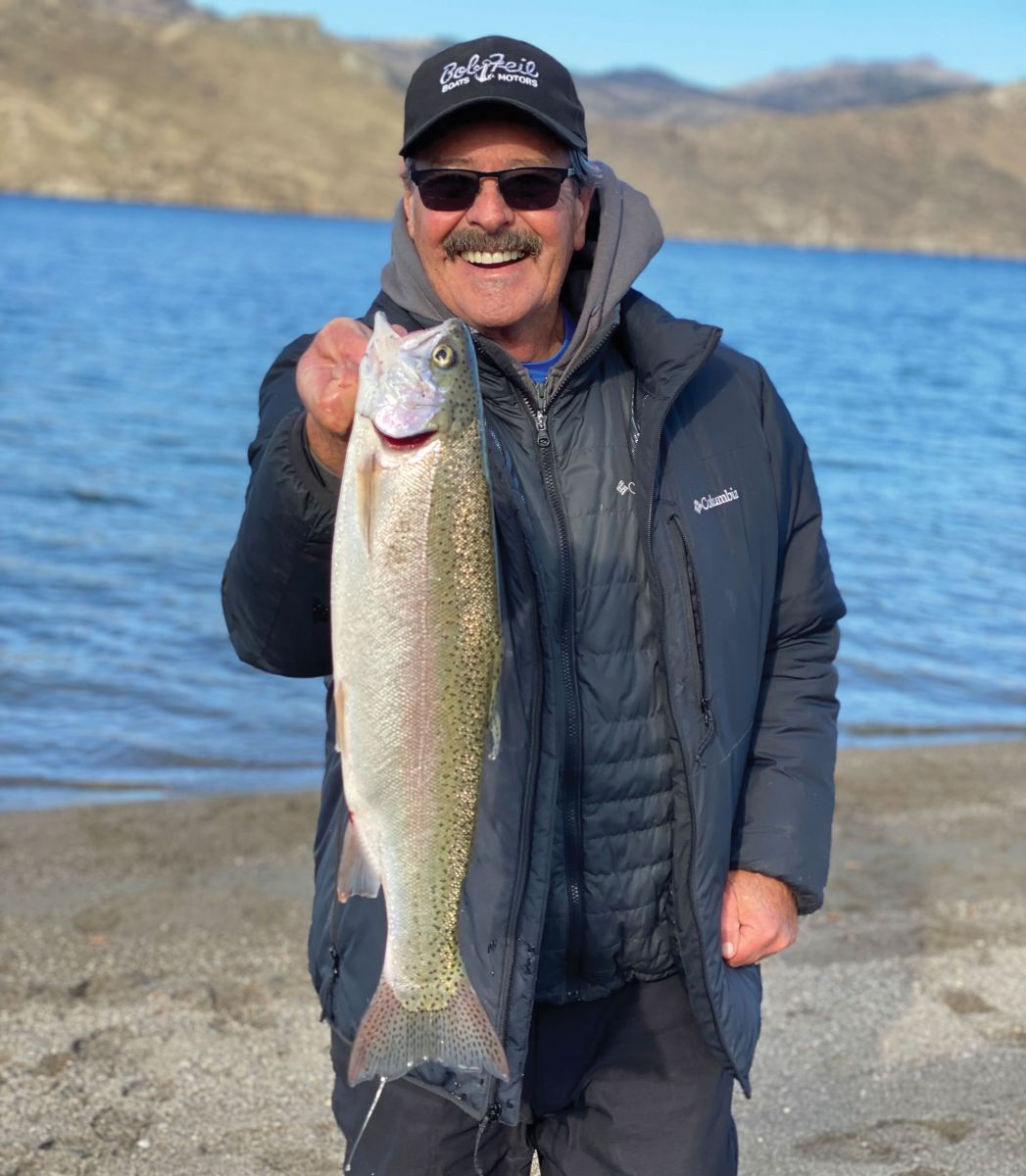 It won't be long before big kokanee show up in the lower reaches of the big reservoir. I am eager to get up to Rufus Woods again and try for big triploids from shore near the net pens. Odds are good to get a limit of fish from the shore here, and I want to try from Brants Landing, too. Fly fishers aren't out of the action either. I am planning to give Rocky Ford Creek a try very soon. I have had many great days landing big rainbow with my fly rod in the winter here.
Fishing for Lake Roosevelt rainbow is one of the things to enjoy in the winter, but I may have started early. Tom Verschuren and I have had great days fishing from shore for these tasty triploids, both at Spring Canyon and at Keller. Although it is a little further to drive, I chose to try Keller on Tuesday. When we arrived at our favorite spot in the Keller campground we found another angler already set up. He didn't have anything yet but said he had limited a week earlier in a couple of hours.
Maybe it was the good weather. It was one of those beautiful clear and sunny days without any wind. We cast out our shrimp and marshmallow baits and waited for a bite. And waited and waited. I decided to run up to the truck and that's when one of my rods went off, and Tom reeled in a 20 ½-inch trout. We got two more hits that didn't hook up, and that was it. We were disappointed but really enjoyed the wonderful winter day in this scenic spot on Lake Roosevelt. We'll try Spring Canyon later on. Fishing really improves as the water level drops. This week's photo is of the rainbow from Lake Roosevelt at Keller.
Last Monday's forecast for Lake Chelan looked good enough for me to invite some old friends to head up there and see if we could catch some kokanee. Jim Passage, who has taken me along on several fly fishing trips for steelhead on the Methow River was eager to go. Dennis Broughton, master fly rod maker and converter of a couple of my rods from spinning to casting guides was the other to join us. I had heard reports of good fishing above the Yacht Club, so we headed up to the Stairs to start. I found no fish around so we moved all the way up to 25 Mile Creek. We got a couple here and worked our way back down the lake all the way to Rocky Point. I was very disappointed in the numbers of fish we caught, but as Jim Passage pointed out: "Today was special.
It was not about the fish. It was about three friends sharing stories and enjoying each other's company. Thank you for organizing the journey." Well said Jim. The fish rarely interrupted us on Monday. I really look forward to the next opportunity to get out on the water with these two guys.
The Department of Fish and Wildlife has extended the fall salmon fishery through Nov. 30 and permits both bank and boat fishing from the powerline crossing one-half mile downstream of the Ringold Springs access area upstream to the old Hanford townsite powerline crossing. The minimum size is 12". The daily limit is six and up to two adults may be retained. Release all salmon other than Chinook and coho. Night closure is in effect. The season is now from November 16th through November 30th. Open waters are from the Columbia River powerline crossing one-half mile downstream of the Ringold Springs access area upstream to the old Hanford townsite powerline crossing.
Ringold Springs Hatchery began rearing and releasing coho in 2019 with the first release of 250,000 juvenile fish to the Columbia River at Ringold in 2020. Adult coho returns to the hatchery have increased and are sufficient to provide additional fishing opportunity for salmon fishing in this area of the Columbia River.
Washington State Parks has designated the free days in 2022 when visitors will not need a Discover Pass to park at state parks and on recreation lands managed by Washington Department of Natural Resources (DNR) and Washington Department of Fish and Wildlife (WDFW). To see the schedule of free days, go to parks.state.wa.us. Saturday, Jan. 1, the first free day of 2022, provides recreationists the opportunity to participate in a First Day Hike, a nationwide initiative that aims to get people outdoors New Year's Day.
The free days do not apply to Sno-Parks. During the winter season, November through April, visitors to Sno-Parks will need Sno-Park permits, which are available for purchase online or from vendors throughout the state. For more information about winter recreation permit requirements, visit: parks.state.wa.us/winter.
I just got a new switch rod, and I am very eager to try it out at Rocky Ford. I hope it will bring me within reach of trout that haven't seen a fly. I also want to get up to Rufus Woods and try fishing from shore, either at Brants Landing or the middle net pens.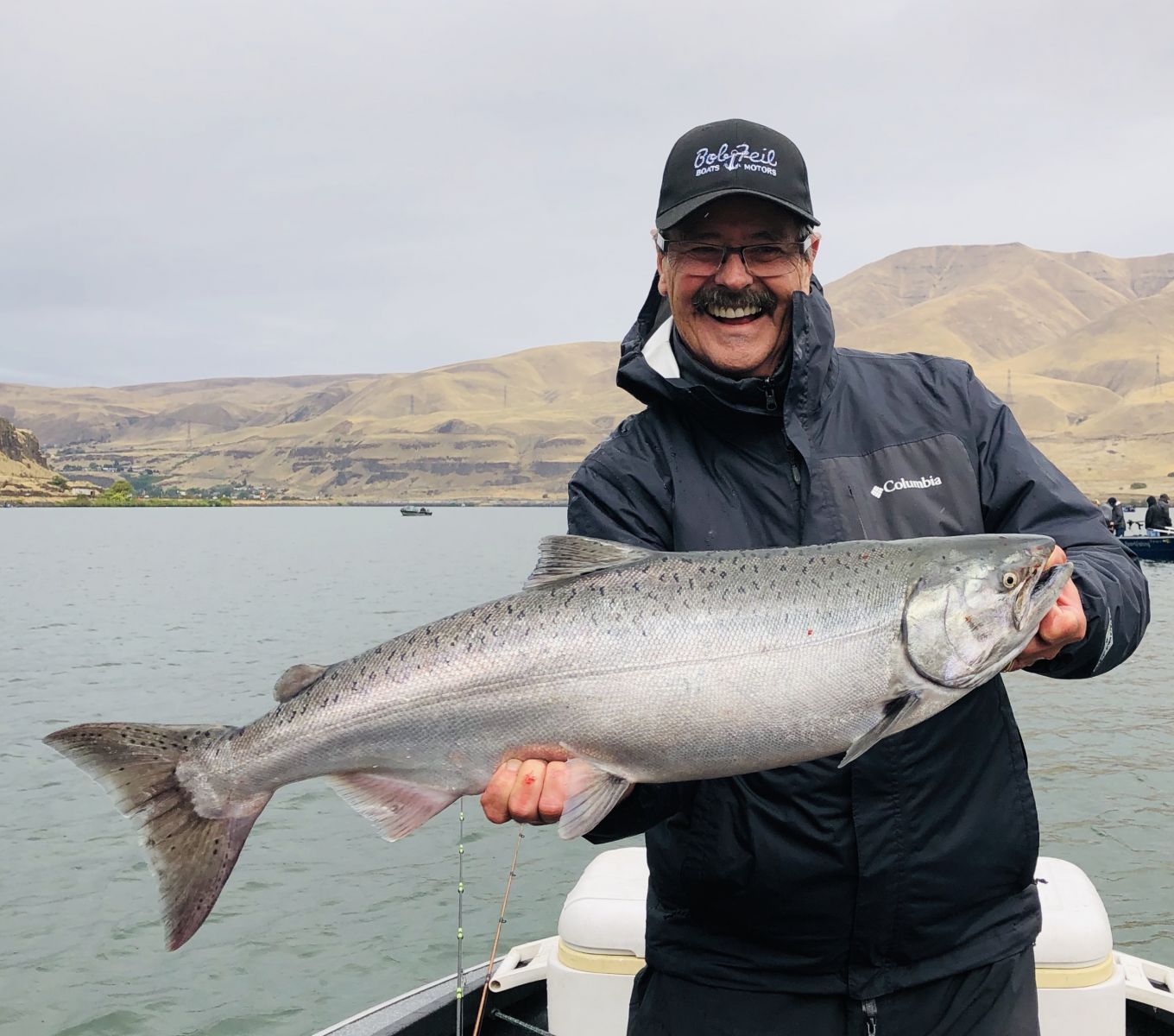 Get Currant Fishing Information at:
www.FishingMagician.com
Reports • Videos • Product Reviews
Free Quarterly E-Letter