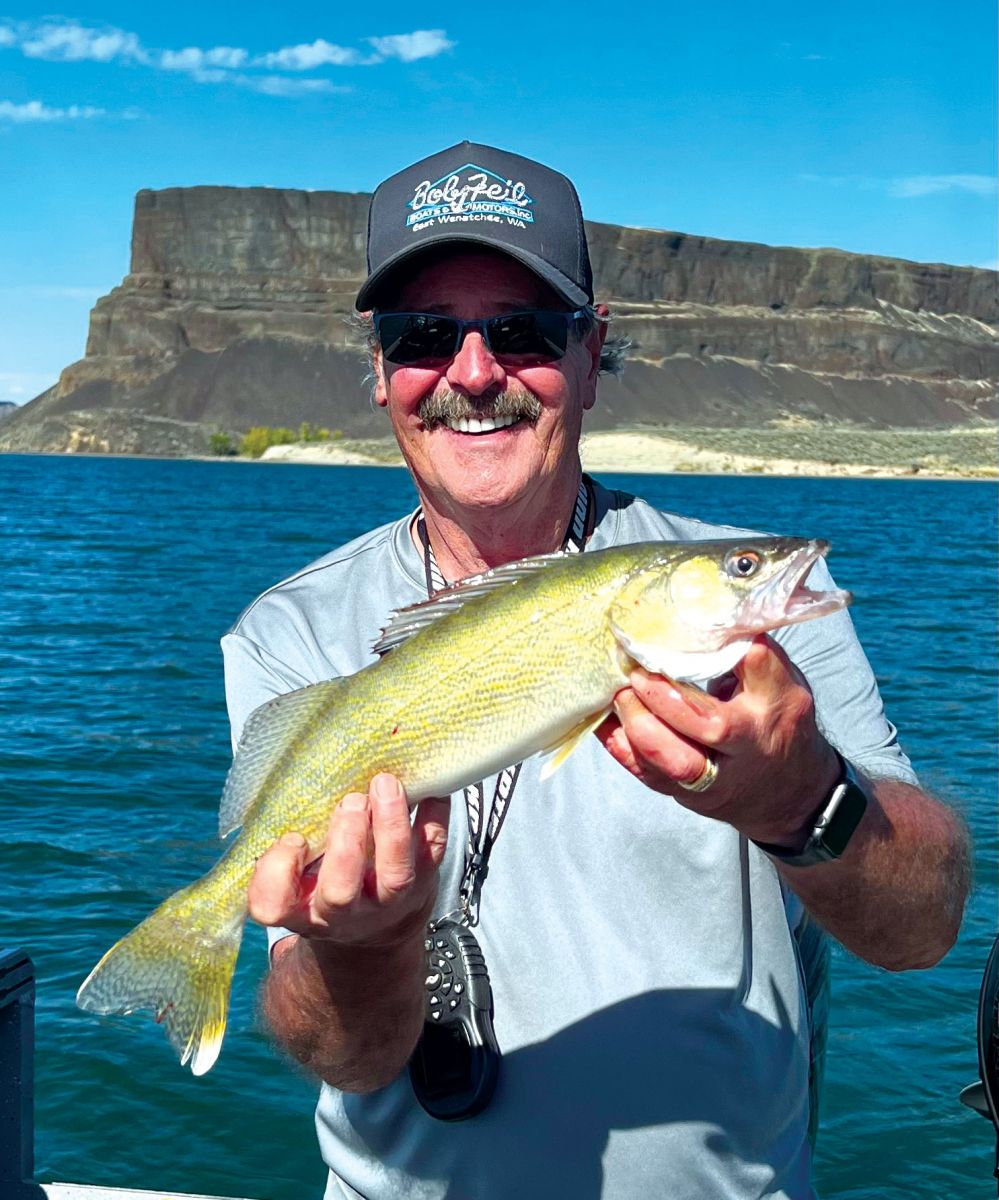 This is a great time of year to be outdoors, and especially fishing on our area waters. The weather is great, and the crowds of summer have thinned. Whether you like to fish lakes or reservoirs, there are some great opportunities out there.
I was really looking forward to the opportunity to fish Banks Lake last Thursday and was very glad my fishing friend Dennis Beich could join me. We have had some great days on Banks over the years. I had heard the bite was late, so we didn't meet at Big Wally's until 9 that morning, and after launching at Northrup headed right over to Barker Flats. I chose a line that put us in 20 to 24 feet of water, and we were pleased to see some fish on the screen. The bite started slow and then got rolling about 10:30 and we landed some nice walleye and some dandy perch. We were burning through the nightcrawlers. I know that we had some perch stealing our baits, but we were also getting lots of walleye bites, but not hooking up, as often as we would have liked.
The bite petered out and since we both like fishing the Million Dollar Mile below Rosebush, we ran down there. I looked in shallow water and deep water for walleye. However, we didn't mark a single fish on the screen. So, we ran up to the sand flats on the down lake side of Steamboat. I did see some good walleye marks on the depth sounder in this area. We got some bites here and put one more walleye in the boat. We wound up with eight walleye and four perch for the day. It took us five dozen crawlers to do it. Obviously, we got a lot of bites. The walleye really had our number, stealing our baits all day long. This week's photo was taken on Banks last Thursday.
There was a new free event for kids last Saturday at Spring Canyon on Lake Roosevelt. I was concerned because the announcement for the event came out just a few days ahead of the event, and many kids have other things going on this time of year. School sports keep many families busy shuttling their kids to soccer games and other activities. I decided to run up there to see how things turned out. When I arrived at Spring Canyon Park there was almost a carnival atmosphere. It was around lunchtime and people were spread out. Some were visiting the many educational booths or displays set up by various agencies. Others were having free hot dogs that were being grilled by the local Lions Club. I tracked down Emilee Franklin, Education Specialist with the National Park Service, who organized the event. She said there were people waiting as early as 7 a.m. that morning, to be sure they would get one of the free fishing rods that were being handed out. She and her staff did an amazing job getting so many people involved to make it a special day for the kids and their families. This first-time event was functioning like it had been going on for years. Thanks very much to the Park Service and all the volunteers and agency personnel that helped out. Everyone was pleased with the number of people that turned out for the event, and are looking forward to next year.
Blue and Park lakes in Grant County are famous for great trout fishing. These two are managed as trout lakes and attract thousands of visitors in the spring and summer. They are rehabbed every several years to maintain a healthy population of trout. At the end of the rehab cycle, many anglers look forward to the perch fishing. Both of these lakes produce some of the best catches of big perch in the region, and now is a very good time to get in on the action. I love to eat perch and catching them is great fun.
I heard some reports of the perch fishing on Blue Lake. I used to launch my boat at Blue Lake Resort, but since the resort has new ownership, and apparently is only open to those who are staying there, I didn't know where I could launch my boat. On my way back from the Spring Canyon Fishing Festival, I decided to look for the public launch. I found it and it was more than what I expected. It is just a short distance up the north shore of the lake, and it has a ramp, dock, restroom, and lots of parking. Just below the south end of Blue Lake is Moore Road. Take this to B Street NE and there it is. I am going to plan at least one perch fishing trip before the lake closes.
One of the most popular fisheries in our region for fall Chinook in the Hanford Reach. Thousands of angling hours are dedicated to chasing this huge run of big salmon. There is good news for those who are planning to fish that area this season. As of September 6th, the total number of fall Chinook adult and jack salmon was 251,799, which is the highest number recorded in the past 10 years. There was a clip rate of 56 percent, which is also higher than the average for this time of year. It looks like this is going to be another good year for fall salmon in the Hanford Reach.
The Wenatchee Sportsman's Association is hosting a meeting with Brock Hoenes, the Washington Department of Fish and Wildlife North Central Washington Reginal Director. This is a great opportunity to meet the Director and learn his views of issues of interest to those who hunt and fish in this region. The meeting will be held at the Appleatchee Riders Association hall, located at 1130 Circle Street, in Wenatchee.
Since I already have my Tribal license, one of my plans for fishing next week is to try my luck on Omak Lake. This is a Colville Reservation lake, just eight miles from the town of Omak. I have had many spectacular days catching Lahontan cutthroat here, and this will be my first trip of the year. In spite of terrific fishing available on Omak, it is rare for me to see another boat on this beautiful lake. I'll be sure to let you know how I do.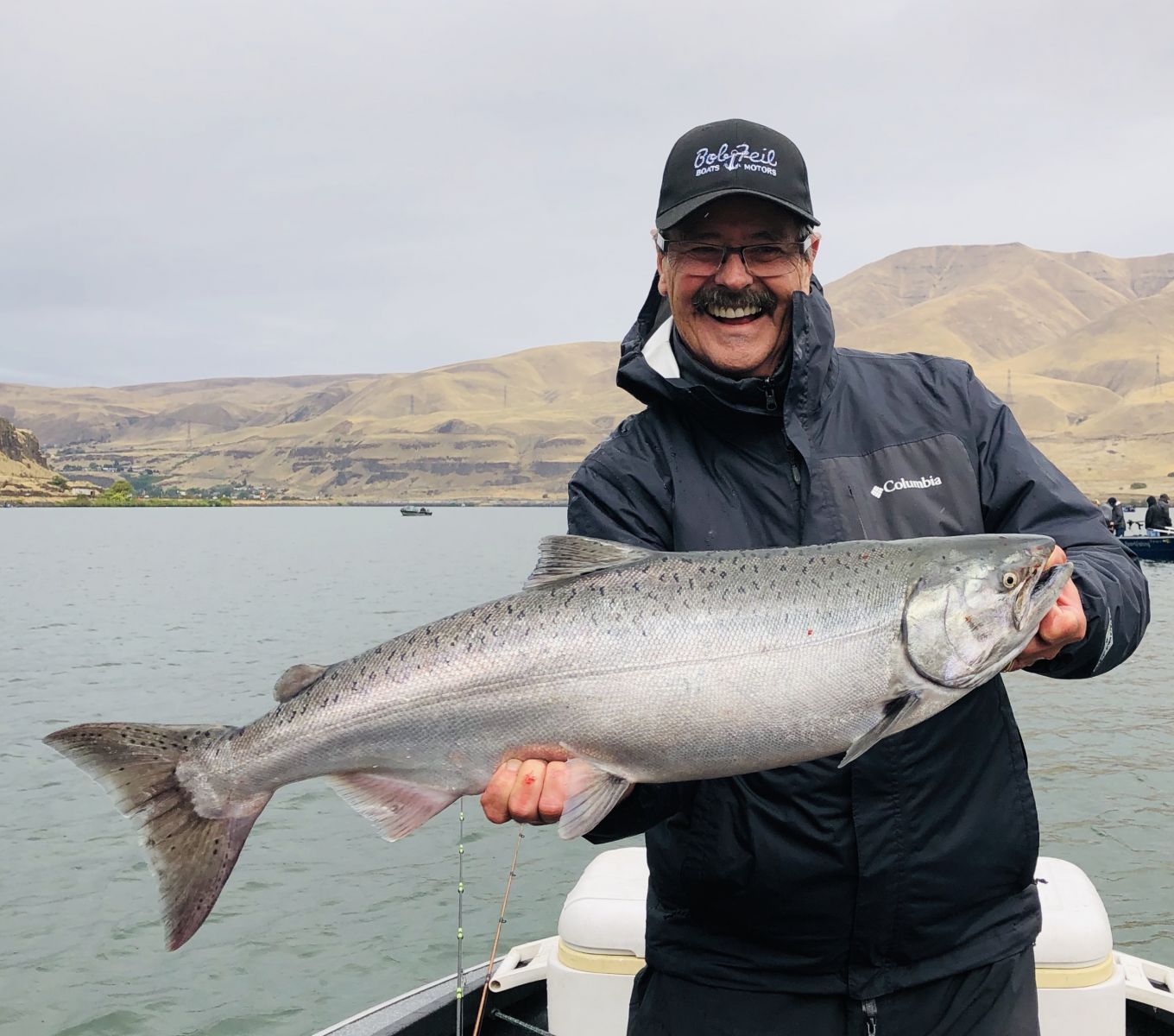 Get Currant Fishing Information at:
www.FishingMagician.com
Reports • Videos • Product Reviews
Free Quarterly E-Letter