August 10, 2023
SEATTLE, WASH. — J. Michael Kelly came from behind twice Sunday, Aug. 6 on Lake Washington and was rewarded not only with the coveted Gold Cup, HomeStreet Bank Cup, but also the H1 Unlimited Racing Series national championship for the Beacon Electric boat.
"Absolutely, amazing, just beautiful weekend here at Seafair," Kelly said. "Never in a million years could I think that I'd win another Gold Cup, let alone a championship."
In the battle within a battle Kelly needed until the third lap to finally overtake Andrew Tate in the Miss Goodman Real Estate to then pulled away. Tate finished second, Corey Peabody and Beacon Plumbing and Dustin Echols in Flav- R-Pac rounded out the top-four.
The win is Kelly's second APBA Gold Cup victory and is also the second in a row for his Strong Racing Team. The American Power Boat Association Gold Cup is the most prestigious trophy in all of boat racing and, first run in 1904, it is the oldest trophy in American motorsports.
Kelly's second rally, that for the H1 championship, erased Corey Peabody's 91-point lead in the 2023 standings.
With his victory in the final heat, Kelly ended the 2023 campaign with an 84-point advantage over Peabody. Echols of Monroe, Wash. was third.
There were four different winners during preliminary heat action earlier in the day. In the day's first heat, Dustin Echols got a perfect start and led the field to the finish line with Kelly placing second.
The day's next heat featured a deck-to-deck battle between Tate and Dylan Runne, both of the Madison Race Team. Tate got his boat across the finish line just a few feet ahead of Runne, who was driving last year's national champion Miss HomeStreet.
Tate was involved in another close race in Heat 4A where he, Peabody, and Runne again thrilled the fans by running side by side through much of the early portion of the race. It ended with Peabody getting across the finish by just a nose ahead of Tate.
Kelly was the winner of Heat 4B when he pulled into the lead during the first lap and held that advantage to the end.
In a truncated season of just four races after San Diego's Bayfair traditional September event was cancelled, the H1 season comes to an end.
The race teams will now head back to their shops for the off-season to begin preparing the world's fastest race boats for a 2024 H1 Unlimited campaign, hopefully with a rebound from 2023? ▪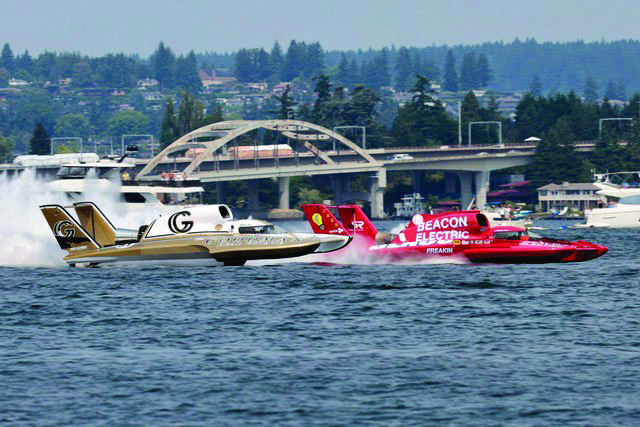 With the Lake Washington floating bridge as a backdrop, J. Michael Kelly and the Beacon Electric battles Andrew Tate driving Miss Goodman Real Estate in the championship heat of the Gold Cup in Seattle, Aug. 6. Kelly drove from behind to capture the lead on the third of four laps to win the oldest trophy in motorsports, the Gold Cup, first contested in 1904. Kelly also was crowned the 2023 H1 national champion, topping teammate Corey Peabody in the Beacon Plumbing boat.
---
J. Michael Kelly, Beacon Electric, 5284
Corey Peabody, Beacon Plumbing, 5200;
Dustin Echols, Flav-R-Pac, 4181
Jamie Nilsen, Legend Yacht Transport presented by The Old Cannery Furniture Warehouse, 4146;
Andrew Tate, Miss Goodman Real Estate, 4014.
---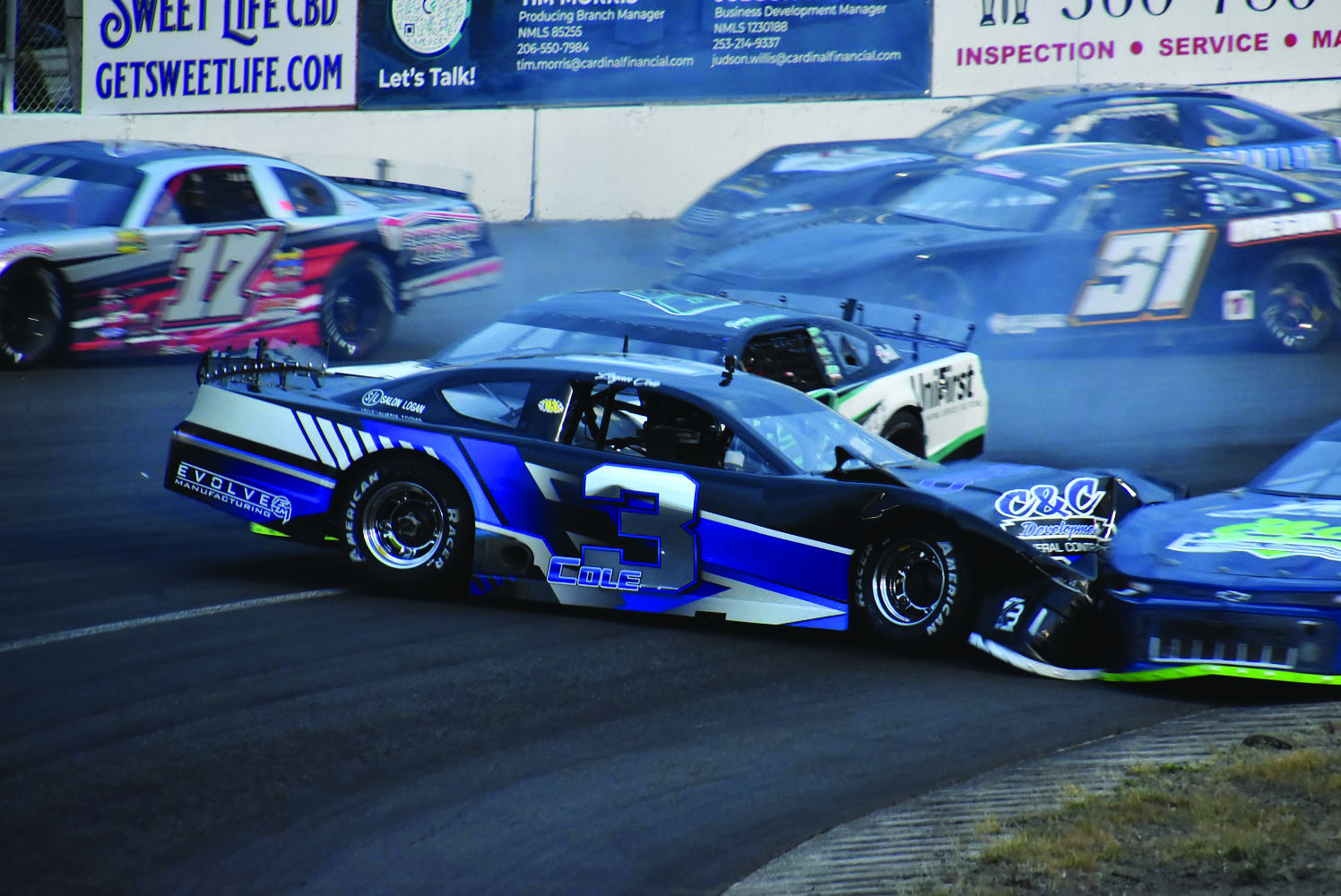 Things got out of hand for Logan Cole (3) and Tommy Elstoen (2) at the "South Sound 200" staged at South Sound Speedway, Rochester, Wash., Aug. 5. The only incident happened on lap six and involved Cole and Elstoen who started first and third respectively. The two were racing hard for the lead when they got together in turn three and the subsequent crash took both cars out of the race. JJ Hamilton won the race that featured a seventeen-car main event but only nine finished. He took the lead on a lap-6 restart and was untouchable after that. 
---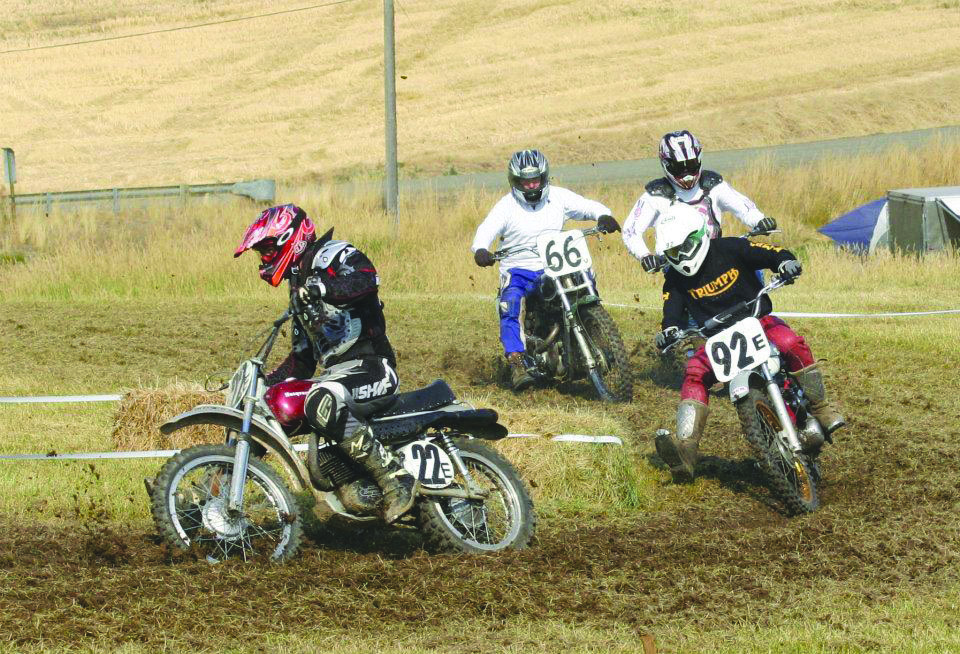 A harvested field of blue grass near Fairfield, Wash. will be turned into a racetrack Saturday and Sunday, Sept. 16-17 for the Vintage Motocross and Trials race.
The hills at Rattlers Run Farms will host a trials event Saturday starting at 9 a.m. and Sunday will feature motocross with sign up at 7 a.m. For rider and motorcycle class info visit: www.ahrma.org. For trials info contact Chris at 509- 710-7916 and motocross details are available from Bryan at 509-688-5918.
A trials school is also scheduled for Friday, Sept. 15 and is free to attend.
Additional info is available at: www.facebook.com/rattlersrunracing. Rattlers run is located at 12111 E Rattlers Run Rd, Fairfield, WA 99012. 
---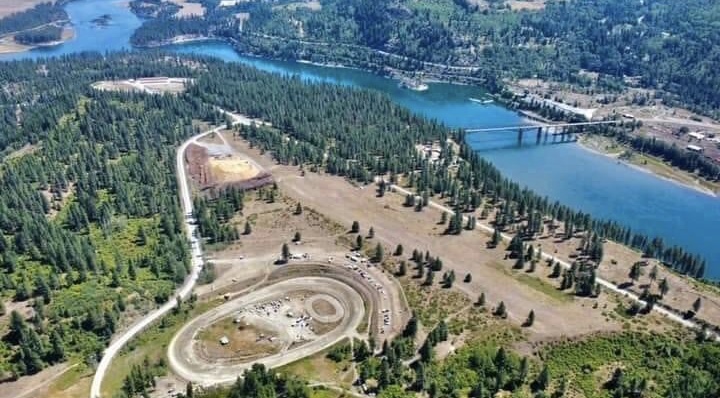 Photo by Josh Ostbye
For a truly unique racing experience make the 2 hour, 110 mile journey to Northport International Raceway. Watch their array of classes scramble around in the dirt on the 3/8ths mile oval. You can watch from the grandstands or just park your vehicle on the areas above turns 3 and 4 and pull out the camp chairs. This spectacular aerial view captured by Josh Ostbye shows the track down in the lower left along along with the Columbia River and community of Northport in the upper right.
Next race dates are Aug. 12 and Aug. 26. Further info can be found by visiting Northport International Raceway on Facebook. Spectator admission: Adult: $10 U.S./$13 Cdn.
60-over: $10 U.S./$13 Cdn. and Kids 12-under free. 