september 21, 2023
POST FALLS, Idaho — Over the past two weeks and in three nights of racing, Stateline Speedway has crowned its 2023 champions.
Hayden's Jeff Bird never won a feature race in 2023 but his five top-five finishes in Freedom Modifieds gave him the nine-points edge (361-352) over nephew Lucas out of Electric City, Wash. on Sept. 16.
Frank Varner of Spokane also had a close finish — just nine points (442-433) — in his Johnson Surveying Hobby Stocks championship win over Bart Hector Jr. from Ephrata in racing on Sept. 9.
Cara Tarr out of Spokane was the V6 Claimers class over Colbert's Donnie Allen is a close battle as just 14 points (402-388) separated the top two. Tarr's consistency — six top five finishes and a main event win in as many races — paved the way to the title.
Alex Mandere from Spokane won the championship in the Rayce Rudeen Legends by 15 points (409-394) over Marissa Sawin from Snohomish, Wash.
Chad Broom finished in the top-five in all six races, winning three in the Eljay Oil Nostalgia Modifieds and topped another Spokane driver, Frankie Volz, Jr. by 16 points (461- 445).
Spokane's Reesen Tarr ended with just a 13-point edge (480-467) over James Cotter from Priest River in Goins Bump-to-Pass, winning three races and finishing in the top-five in all six events.
TJ Sneva, son of the late Jerry Sneva and part of Spokane's famous family of racing won his final feature on Sept. 16 en route to the 2023 title. He ended with a 30-point edge (447-417) over Colville's Chris Ochs and won five of six main events.
Jared Storer from Spokane collected the Impel Roadrunners championship with relative ease over Spokane Valley's Keaten Tarr. Three wins and seven top-fives in eight races provided Storer his 63 point (568-505) margin.
It was a battle between Othello, Wash. drivers James Herreid and John Brueher in Motion Auto Supply Early Stocks. Herreid's five wins in seven races gave the champ an 83-point (685-602) margin.
KC Garber is part of another well-known Spokane-area racing family. His 95-point victory (659-564) in Park Model Homes Fever 4s came on the strength of five victories and top-five finishes in all nine races.
Nick Gibson had to work extra hard to win the Stateline Racecals Pro Late Model championship needing a 900-mile round trip each time from his Nampa, Idaho base. The 2023 Idaho 200 winner had four feature wins in six races in building a 114-point margin (638-524) for the crown.
Spokane's Carsyn Murphy ran away with the Angel's Bail Bonds Bandolero's as 12 wins in 16 races propelled him to a 163-point margin (1,177-1,014) over Maddex Clanton from Rathdrum, Idaho.
The Northwest Figure 8s lone visit to Stateline produced a victory for Snohomish, Wash. Damon Claibourn who won a close 80-75 win over fellow West-sider, Peyton Hopp from Monroe.
Final details on the date and site of the Stateline Speedway banquet are still being finalized.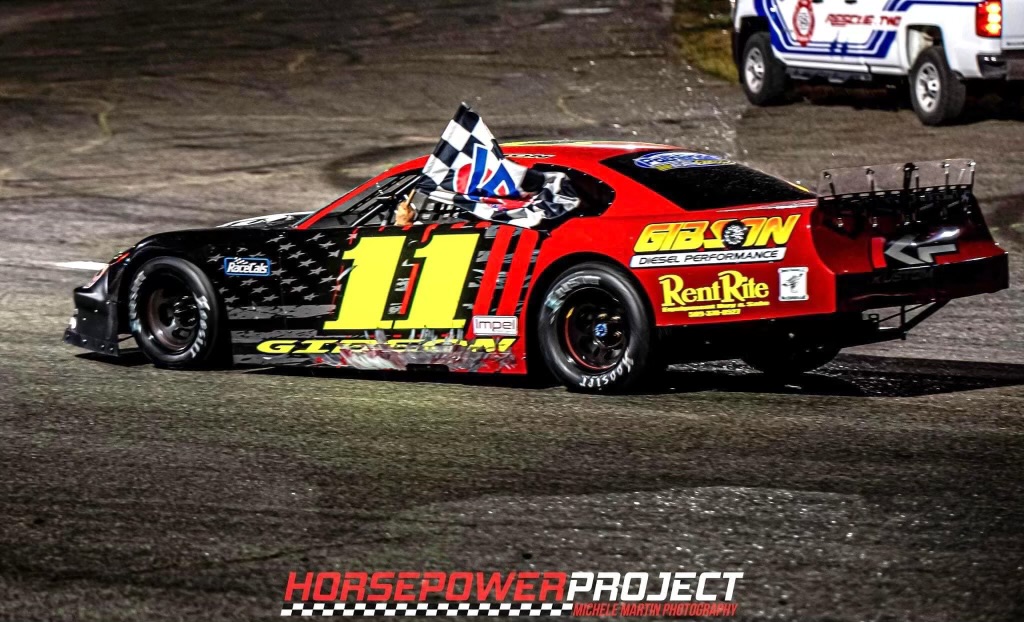 Nampa, Idaho's Nick Gibson not only won the 2023 Idaho 200 but traveled 900 miles round trip to compete in and win the Racecals Pro Late Model championship at Stateline Speedway.
- Nick Gibson/Horsepower Project photo
The youth movement in the Northwest Super Late Models prevailed again as Evan Goetz, 15, from Okanogan, Wash. won the Neal Newberry 125, Sept.
16 at the Wenatchee Valley Super Oval.
Goetz finished 2.6 seconds ahead of Haeden Plybon, 19, Spokane and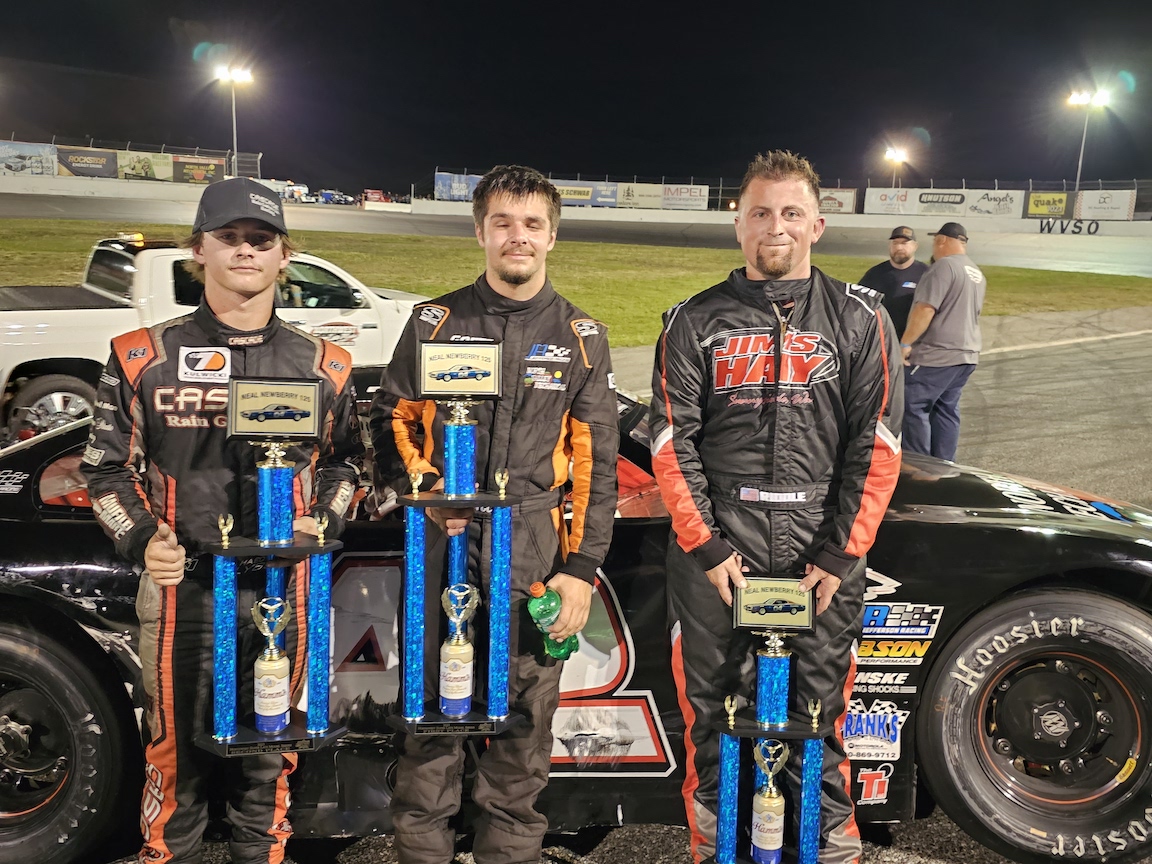 Tayler Riddle out of Naches,Wash. on the quarter-mile oval in a field of 19 cars.
With one race remaining in 2023, the Oct. 1 Fall Classic at Tri City Raceway in West Richland, Wash. Plybon has all but clinched this season's championship.
The top finishers at the Neal Newberry 125 Sept. 16 at Wenatchee included (L-R) Haeden Plybon (second), Evan Goetz (first) and Tayler Riddle (third).
- NWSLM photo
---
Top Fuel's Doug Kalitta picked up his milestone 50th career win Sept. 18 at Maple Grove Raceway, earning his first victory in nearly three years after driving past Steve Torrence in the final round of the 38th annual Pep Boys NHRA Nationals, the first race in the NHRA Countdown to the Championship playoffs.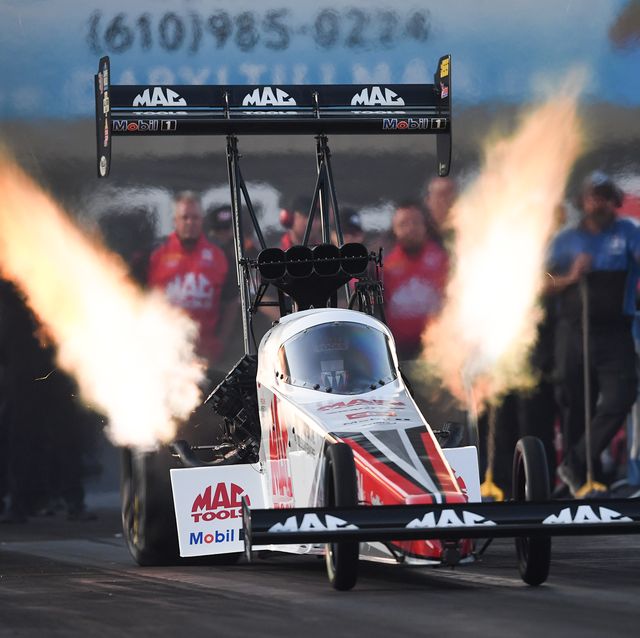 Robert Hight (Funny Car), Matt Hartford (Pro Stock) and Matt Smith (Pro Stock Motorcycle) also won the 16th of 21 races during the 2023 NHRA Camping World Drag Racing Series season, and the first of six events in the Countdown to the Championship playoffs. The points lead changed hands in every class this weekend as well, with three of the four winners (Hight, Hartford and Smith) taking over the top spot.
Top Fuel's Doug Kalitta picked up his milestone 50th career win Sept. 18.
- NHRA photo