Dedicated to all men and women who served in combat and their families who love them. Operation Dog Tag wishes to educate the community of their purpose and asks for help in aiding the returning veterans along with the ones that are already struggling at home.
And we veterans thank you as we continue "Making Man's Best Friend Even Better For A Veteran"­­­ - Joe Scheffer, Director
My name is Steven, I served with the U.S. Army in the 10th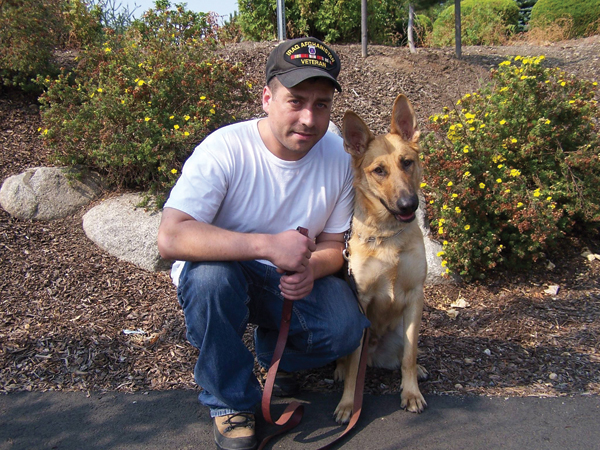 Mountain Division. I served in combat in Iraq and Afghanistan. My wife attempted for two years to get me into a service dog program to help with my PTSD and traumatic brain injury, but I kept receiving the run around by various companies. I had pretty much lost all hope until I heard about Operation Dog Tag from another combat veteran. Joe Scheffer, the Director, and master trainer, was given my phone number, and was asked if he would contact me. Well he did, and I was told I was welcome to come to the classes until they located a dog that would be suitable for me and my needs. As I attended classes without a dog, I made my hopes known that I would very much like a German Shepherd for my battle buddy, and I was willing to wait no matter how long it would take. Four weeks went by and I was asked if I would help with a dog that Joe brought to class. After half way through the class Joe asked me what I thought about the dog? I thought I was just helping him with the dog for one of his clients, but I said I liked him, and Joe responded, "Good, he is yours!" I was so surprised and very happy. I want others to know that my new friend "Dutch" has been one of the best things that could have happened to me. My dog, Dutch, has given me more peace and purpose in my life since the difficulties from combat. I hope other combat brothers and sisters will think about a battle buddy for themselves. Thank you for everything Operation Dog Tag and Joe!
Steven Smethurst / U S Army,
10th Mountain Division, OIF-OEF