Cars & Crossovers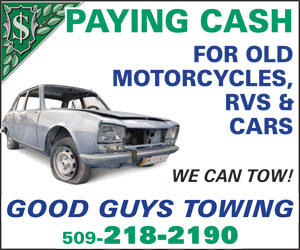 Cars & Trucks
2008 CHEVY SILVERADO CREW CAB CANOPY
Custom made black gloss canopy that fits 2008 Chevrolet Silverado crew cab. Brake light over back canopy door. Factory carpeted inside, sliding screens & tipping front window. Canopy comes with mountiRead More
Cars & Trucks
DO YOU HAVE A CAR THAT IS IN YOUR WAY?
Don't know what to do with your vehicle that does not run? Give us a call & we will tow it away! We handle all the paperwork & in some cases we will pay you for your car. (If your neighbor has an eyesRead More
Cars & Trucks
UNWANTED VEHICLES IN YOUR WAY?
Maybe they are in your neighbors yard & he just needs our number. We pay cash for vehicles, running or not. Paperwork may be required, call for details. 509-413-9701Read More