Wood & Warm
DOUBLE TREE FOREST MULCHING
Click for All Seasonal Ads
Services
VERTICAL OPTIONS
Click For All Services Ads
Dogs
BELGIAN MALINOIS BLACK MALE STUD
Male Standing Stud, $1000 stud fee. 509-344-9567 Sprague.. click for more info
Equipment, Tractors & Trailers
4x4 TRACTORS
With loaders & warranty. Brush mowers, tillers, backhoe attachments & more. Delivery available. 509-738-2985, www.JJRiggsEquipment.com.... Click to read full ad
Acreage, Lots & Land
PRICE REDUCTION ON 20 ACRES
Click For All Real Estate Ads
Garage/Estate Sales & Events
THROWING A FREEDOM SALE-A-BRATION
20% off everything through July 4th at Trouvaille Thrift! The usual military & law enforcement discount applies in addition to the sale price. Thank you for protecting our liberty. Happy Independence Day everyone! Stop by 116 E Crawford, Deer Park for cotton candy Saturday!.....Click to read full ad
Miscellaneous
PAYING CASH FOR OLD CARS, TRUCKS
Click For All Miscellaneous Ads
RVs & Toys
LAKE ROOSEVELT RV PARK!
Click For All RV, Boat & Toy Ads
Cars & Crossovers
2007 BUICK LACROSSE
Click For All Car & Truck Ads
Just Listed
Animals
BEAUTIFUL 2 YEAR OLD FEMALE SIBERIAN HUSKY
AKC registered, great with kids, good bloodlines for breeding, sable & white. Moving, must place, $300. 509-238-6021 Chattaroy Read More
Sales, Events & Auctions
TREASURES ON THE PRAIRIE IS NOW OPEN!
Fridays, Saturdays & Sundays, 12pm-5pm. One-on-one appointments also available. We have baskets, trellises, galvanized buckets & tubs, watering cans, iron fences, everything you need for your Read More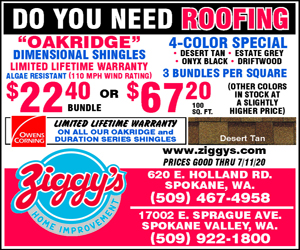 RVs, Boats & Toys
NEW 2020 SANDPIPER 5TH WHEEL LUXURY TRAILER
$52,000. Also, 2019 Ford 350 diesel truck, 18,000 miles, includes trailer hook-up, $60,000. 408-219-9714 SpokaneRead More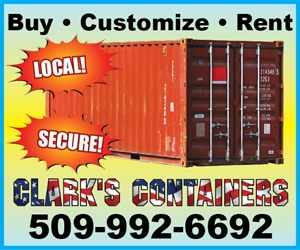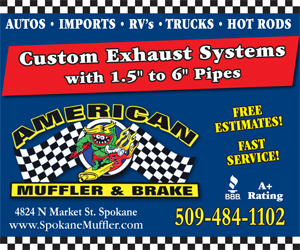 Real Estate & Rentals
CHATTAROY VALLEY ESTATES HOME
3 bedroom 2 bath, in a great location with new floors & new paint. Privacy in fenced back yard. Close to Spokane & Deer Park for shopping, doctors & hospitals, $99,500. MLS #202017866. Gwen Arrand, ExRead More
Real Estate & Rentals
NEARLY 5 ACRE TREED ACREAGE, ELK
Plenty of room for shop or barns. Power & good producing well. For price & more info, contact Barb Frye, Exit Real Estate North, 509-220-4373Read More