Real Estate - Residential
REVERSE MORTGAGE
Click for All Real Estate Ads
Miscellaneous
SHIPPING CONTAINERS- SALE/ RENT
Click For All Miscellaneous Ads
Services
HOME PNEUMATIC ELEVATORS
Up to $500 off! Reasonable pricing, easy installation in 3-5 days, free local estimates & recommendations for customization options. Call Vertical Options today, stay mobile & safe in your own home!... Read full ad for more info
Garage/Estate Sales & Events
BUYING & SELLING GOLD & SILVER
Scrap gold, jewelry, quality diamonds, coins & collections. Free purchase appraisals. We travel to buy! Highest prices paid! ... Read full ad for more information
Dogs
AKC REG. STANDARD POODLE PUPPIES
Click For All Dog & Animal Ads
Farm Fresh & Produce
CLAYTON FARMER'S MARKET
Rain or shine! Clayton Fairgrounds just off Hwy 395. Lots of yummy new fresh local in-season fruits & veggies like tomatoes, tons of peppers, potatoes, garlic, rhubarb & plums, fresh herbs & plants, wonderful jams, eggs, breads, soaps & lotion, local art, small farm animals, etc. Enjoy ice cold lemonade & lunch. Live music. Bring the family & join the fun ... Read full ad for more info
Motorcycles & ATVs
CASH FOR NON-RUNNING MOTORCYCLES
Click For All RV Ads
Auto Parts & Services
WE MOVE OLD CARS & TRUCKS
Click For All Automotive Ads
Building Materials & Tools
SHIPPING CONTAINERS DELIVERED
Click For All Equipment Ads

Just Listed
Real Estate & Rentals
GREENACRES/ VALLEY DUPLEX, A FANTASTIC INCOME OPPORTUNITY!
Privately located secondary to Sprague Ave. Each unit is open concept with 1590 sq.ft., 2 bedrooms, 1.75 baths, gas fireplace, patio & 2-car garage. Additional parking & RV storage. Zero-step Read More
Sales, Events & Auctions
PINKYS FLEA MARKET
Friday, Saturday & Sunday, September 27, 28 & 29, 10am-5pm. Come join us for our September Sale Event & Almira Country Fair. You will find repurposed, rescued treasures & handmade giftRead More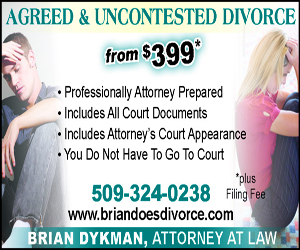 Animals
SPOKANE'S ONLY TRUE WESTERN TRAIL RIDING RANCH!
Offering guided trail rides, open 7 days a week year round. Unique Ranch Barn B&B & Campsites open too. Quality horse boarding $250/month. Horse sales & leasing. www.SpokaneTrailRides.com Read More
Animals
GREAT PYRENEES X ANATOLIANS
Ranch raised, socialized with family. Large breed, parents on site, 1st vaccinations & wormers. Healthy & happy, $400 each. 509-227-9077 Spokane Read More
Real Estate & Rentals
MOTIVATED SELLER! AMAZING LOG HOME ON PEACEFUL 25 ACRES IN FRUITLAND, WA
Less than an hour from Fairchild Air Force Base & Airway Heights, open concept design, 5 bedrooms, 2 baths, fully finished basement, 30'x40' shop, 30gpm private well, zoned for possibilty Read More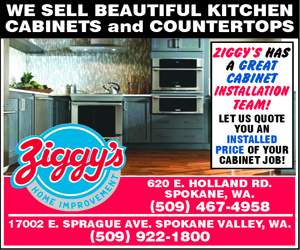 Animals
WOLF HYBRID X GERMAN SHEPHERDS
Texas Red Wolf & Shepherd quality lines! Low content. Ranch raised, socialized with family. Intelligence profound. Very unique markings! Fantastic adventure dogs, $400. 509-227-9077 Spokane Read More