Real Estate & Rentals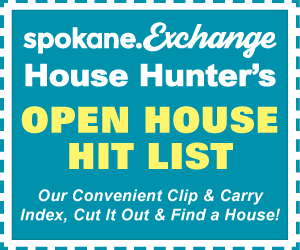 Real Estate & Rentals
THE BUCK STOPS HERE...
Along with Elk, Moose, Bear, Cougar, Coyote, Grouse, Bunnies and more! Fish in the creek that flows nearly a half mile through this 49 acre parcel, and watch the game wander by, $234,900. Alan Dahl, 5Read More
Real Estate & Rentals
SOLD! OTIS ORCHARDS SPLIT-LEVEL HOME
3 bedrooms, 2 baths, deck, 2-car garage, fenced backyard, storage shed, gorgeous peaceful .4 acre lot, $270,000. Contact Terry McKanna, Windermere Valley, www.TMcKanna.com 509-991-9237Read More
Real Estate & Rentals
5-ACRE PARKLIKE OASIS NEAR AIRWAY HEIGHTS
2 bedrooms, 2 baths, adorable "She Shed", 20'x24' shop, 8'x40' steel container, fenced & cross-fenced, $298,000. Contact Heidi Bollum, Windermere City Group, www.HeidiBollum.com 509-998-7287Read More
Real Estate & Rentals
HIGH PRODUCING HAY FARM
$1,200,000. 198 acres, main crop is alfalfa. Nice home & several large barns & equipment sheds are all in excellent condition & well maintained. The equipment is also well maintained & can be purchaseRead More
Real Estate & Rentals
ARE YOU WONDERING WHAT YOUR HOUSE IS WORTH?
Call Linda Schoening for a market analysis, 509-701-3842. Real Estate Marketplace. Or email: Linda7013842@gmail.comRead More
Real Estate & Rentals
LOOKING FOR YOUR NEW HOME, OR LAND TO BUILD?
Call Linda Schoening & ask how to find the perfect home to fit your needs. 509-701-3842. Real Estate Marketplace. Or email: Linda7013842@gmail.comRead More