Garage/Estate Sales & Events
Garage/Estate Sales & Events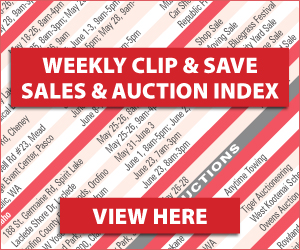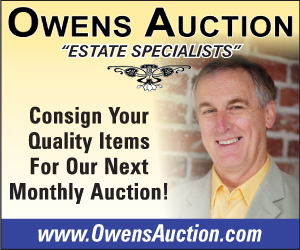 Sales, Events & Auctions
TROUVAILLE IS OPEN TO HELP GET THINGS PEOPLE NEED
Into the hands of those who need them. To reduce exposure, call or text if you have needs or if you can meet someone else's needs. 509-276-5818 or 208-580-4340. Check Facebook @TrouvailleDeerPark or wRead More
Sales, Events & Auctions
CURBSIDE SERVICE AVAILABLE
We are offering curbside service available for anyone needing supplies or wanting to design and make your own creations at home. Anything you need, call us at 509-466-7223, even from the parking lot, Read More
Sales, Events & Auctions
HEIGHTS MOTEL, WE'RE OPEN! 509-481-7338
Great rates! $55.55 daily; $325 weekly; $950 monthly. 13504 W. Sunset Highway, Airway HeightsRead More
Sales, Events & Auctions
OVERCOME AND PERSEVERE IS THE AMERICAN WAY!
Show your colors with a flag and/or flagpole from Uncle Sam's Flag & Gift. Our unique telescoping flagpoles as seen at the fair and area trade shows are made in Idaho and rated for 100 mph winds wiRead More
Sales, Events & Auctions
OPEN RANGE MINISTRY WILL BE TEMPORARILY CLOSED UNTIL APRIL 5
Welcomes you to country gospel music ministry, with live music playing the good ol' country gospel hymns, "Bringing the Lost Sheep Into the Fold!" Sundays, at 1:30pm. 14112 E Wellesley Ave, Spokane VaRead More
Sales, Events & Auctions
TAKE A FUN NEW CLASS!
"The Art of Soap Making" at Greencastle Soap, Friday, April 17, 6pm-8pm and Saturday, April 18, 11am-12pm. Design your own fragrance & take home nearly 3 lbs of freshly made soap, $55 covers it all! ARead More