History & Awards
Industry Awards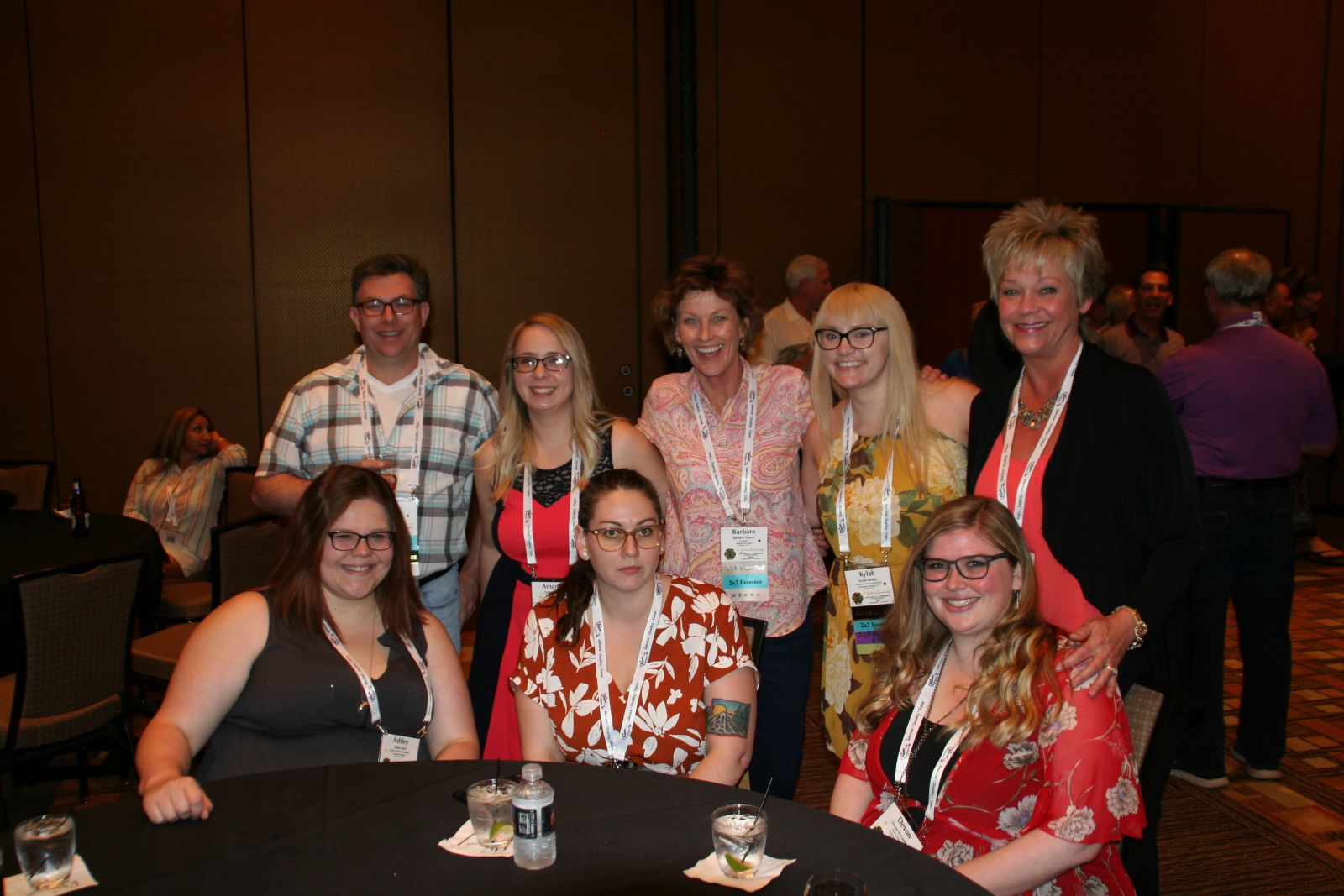 2019 general excellence Award - 1st place
The Exchange was awarded 1st Place in the Category of General Excellence for a weekly paper with 0-9% editorial content at the 2019 AFCP Annual Conference and Trade Show in Las Vegas! Over 1,300 individual entries were submitted from publications all across the United States and Canada.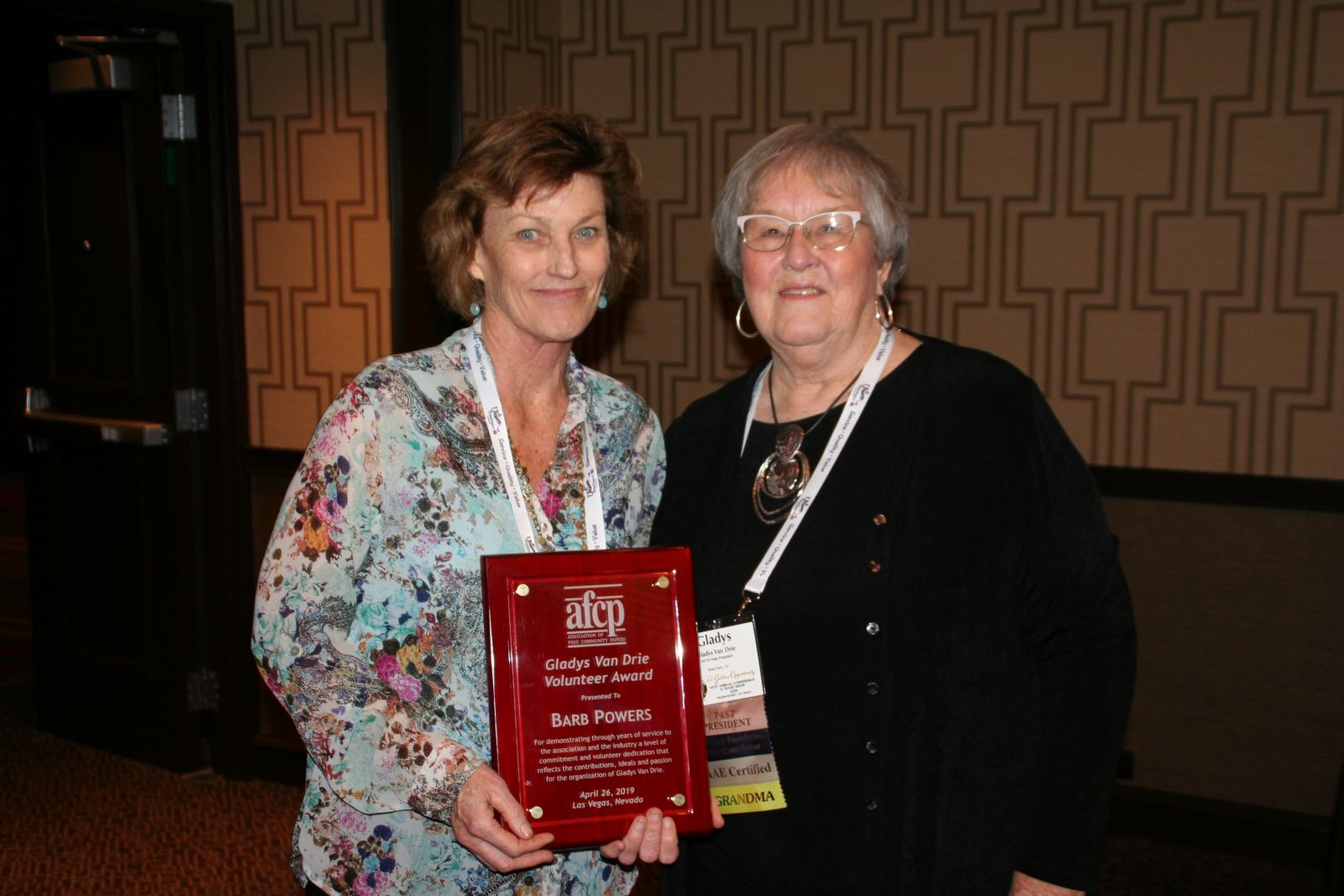 2019 AFCP Gladys van drie volunteer award
Barbara Powers, our publisher, was announced as the fifth recipient of the Gladys Van Drie Volunteer Award at the Association of Free Community Papers Annual Conference and Trade Show in Las Vegas.
The presenter of the award had this to say, "This award recognizes the contributions of a volunteer who has given significantly to the betterment of the industry as a whole, without thought to personal gain. Barb has contributed greatly to the long term success and accomplishments of community papers across the country. Barb started her journey in the paper industry in 2000 after a career in real estate. By 2002, she had accepted a position representing the regional association on the AFCP board as an active participant in several AFCP initiatives. Her commitment to her fellow publishers through involvement in PNAWAN, PaperChain and AFCP stands as a testimonal to the type of volunteers that keep this industry moving forward. Barb has established herself as a trusted, respected and ever present volunteer for the entire free publication industry, and has repeatedly demonstrated the devotion and efforts worthy of the Gladys Von Drie Volunteer Award."

best self promotion classifieds
The Association of Free Community Papers honored The Exchange with 3rd Place for the best self promotion of classified ads. The award was given at the 2019 AFCP Annual Conference and Trade Show in Las Vegas.

best In-Paper promotion of a Special Section
The Exchange was awarded 3rd Place for the best in-paper promotion of a special section for our 2018 Big Horn Outdoor Adventure Show Guide. The award was given at the 2019 AFCP Annual Conference and Trade Show in Las Vegas.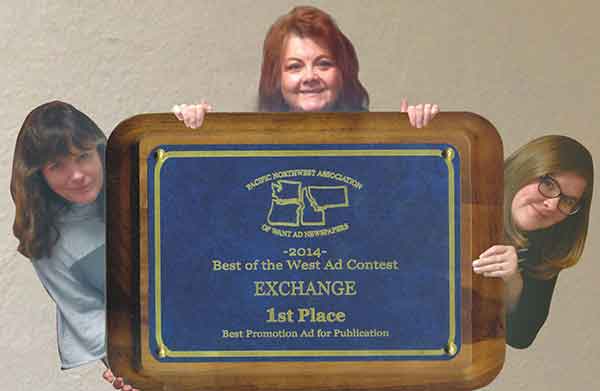 Best of the West Award
The Exchange was presented with 1st Place for "Best Promotion Ad for Publication" in the Best of the West Ad Contest which was presented during a PNAWAN (Pacific Northwest Association of Want Ad Newspapers) Conference held at Northern Quest in Spokane. Our award winning graphics team consists of Deborah Simpson, Shelly Wall and Devon McCarthy.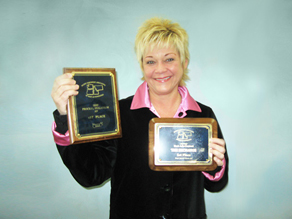 Best Retail Store Ad, Best Special Section & Best Self promotion Ad
Exchange Publishing of Spokane, received several awards from the Pacific Northwest Association of Want Ad Newspapers at the Fall Conference. First Place "Best Retail Store Ad" for Oxarc, First Place "Best Special Section" for the Big Horn Show Guide and Second Place "Best Self-Promotion Ad" for Power to the Papers. Jan Ryan, Sales Queen, accepted the awards in Las Vegas.
Community Awards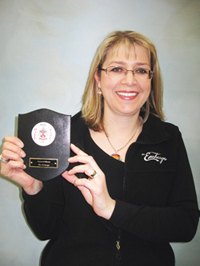 Friend of Hillyard Hall of Fame
The Exchange was presented with the Hall of Fame "Friend of Hillyard" Award from the Greater Hillyard Business Association. Luke Tolley of the Association presented Helen Boyd-Schwartz the award and said "The business winner has their offices in downtown Spokane, but they are Hillyard at heart. They have reached out to our neighborhood for years to help us advertise events and businesses, especially through tough times."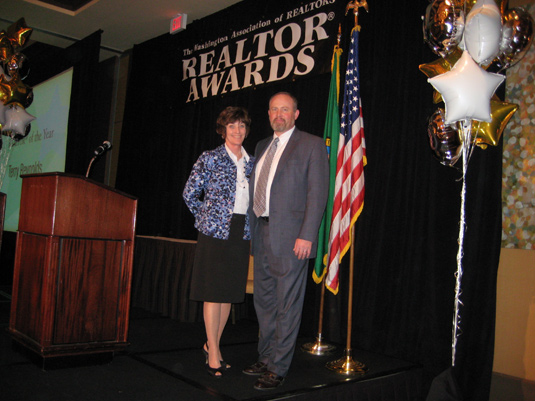 Partner of the year, Washington Association of realtors®
"Partner of the Year" Award for the Washington State Association REALTORS® is Barbara Harns Powers, of Exchange Publishing, an organization that provides affordable and effective media for real estate advertisers. She was nominated by Jim Palmer Jr. of Real Estate Marketplace NW, Deer Park, Washington. Creativity and resourcefulness are words that have been used to describe her. The award is presented annually to an active media organization or individual for their support of the REALTOR® profession. To quote one of her REALTOR® clients, "I have never known anyone in any business that understands customer service like Barb does. Barbara served for four years on the Board of Directors for the AFCP, the national Association of Free Community Papers, with a circulation of about 100 million. She has been on the Board of Directors for the PNAWAN, the Pacific Northwest Association of Want Ad Newspapers, and served as their Convention Chairman. She was a CASA volunteer in the past as well. Barbara was considered for this award alongside many other media professionals across the state as well.
Employee Awards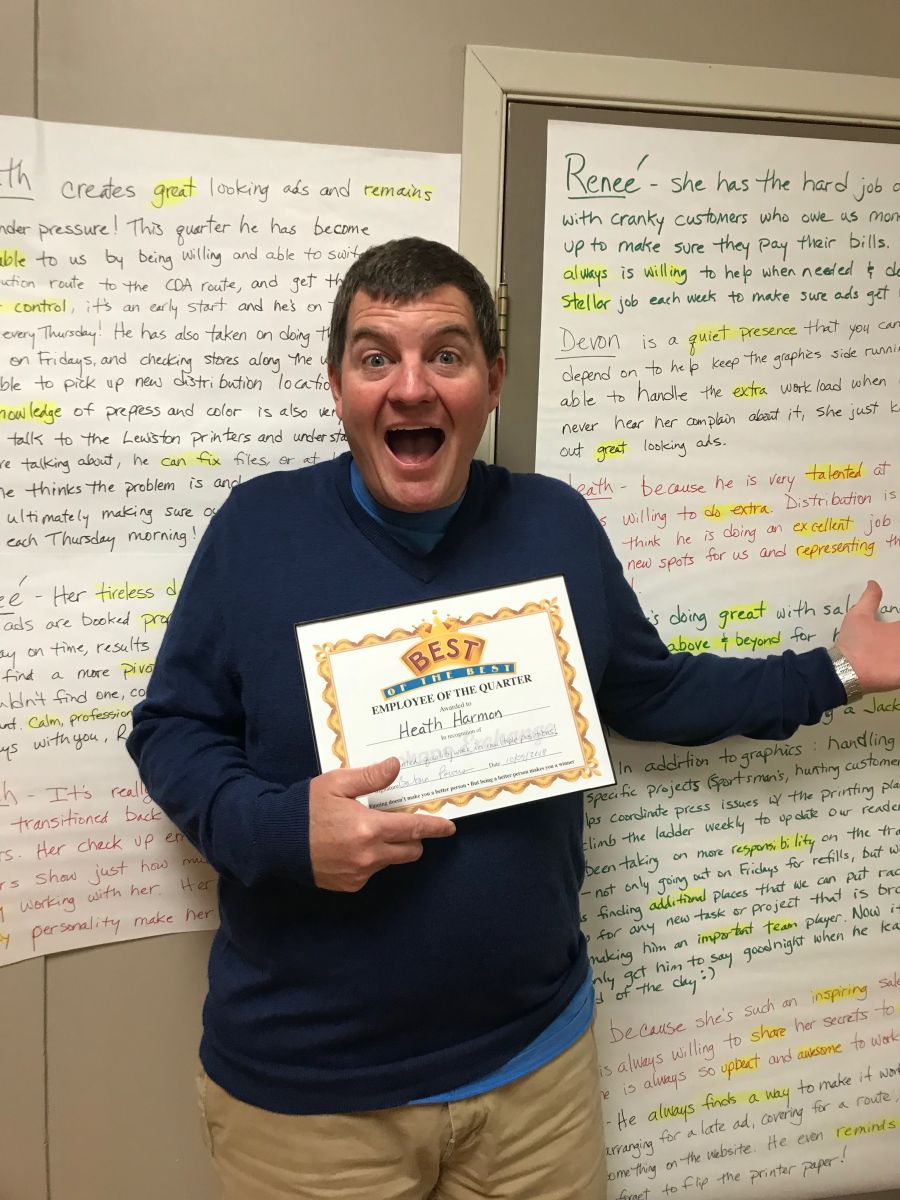 2018 Employee of the 3rd Quarter
Heath Harmon, Graphic Designer & Distribution
• "Heath seems to be becoming a Jack-of-all-Trades: In addition to graphics - handling the man-specific projects (Sportsman's, hunting customers, Y.O.U), he helps coordinate press issues with the printing plant, he & Sam climb the ladder weekly to update our reader board, plus he's been taking on more responsibility on the transportation side - not only going out on Fridays for refills, but working towards finding additional places that we can put racks out. He's up for any new task or project that is brought to him which makes him an important team player. Now if we could only get him to say goodnight when he leaves at the end of the day!"
• "Heath is very talented at his job and always willing to do extra. Distribution is important, and I think he is doing an excellent job at securing new spots for us and representing the Exchange in general."
• "Heath creates great looking ads and remains cool under pressure! This quarter he has become invaluable to us by being willing and able to switch his distribution route to the Cd'A route, and get that cleaned up and under control. It's an early start and he's on the road by 6:30am every Thursday! He has also taken on doing the refill route for us on Fridays, and checking stores along the way, and has also been able to pick up new distribution locations each week! His knowledge of prepress and color is also very important, he can talk to the Lewiston printers and understand what they are talking about, he can fix files, or at least tell them what he thinks the problem is and guide them through the process, ultimately making sure our paper is of the highest quality each Thursday morning! Thank you Heath!"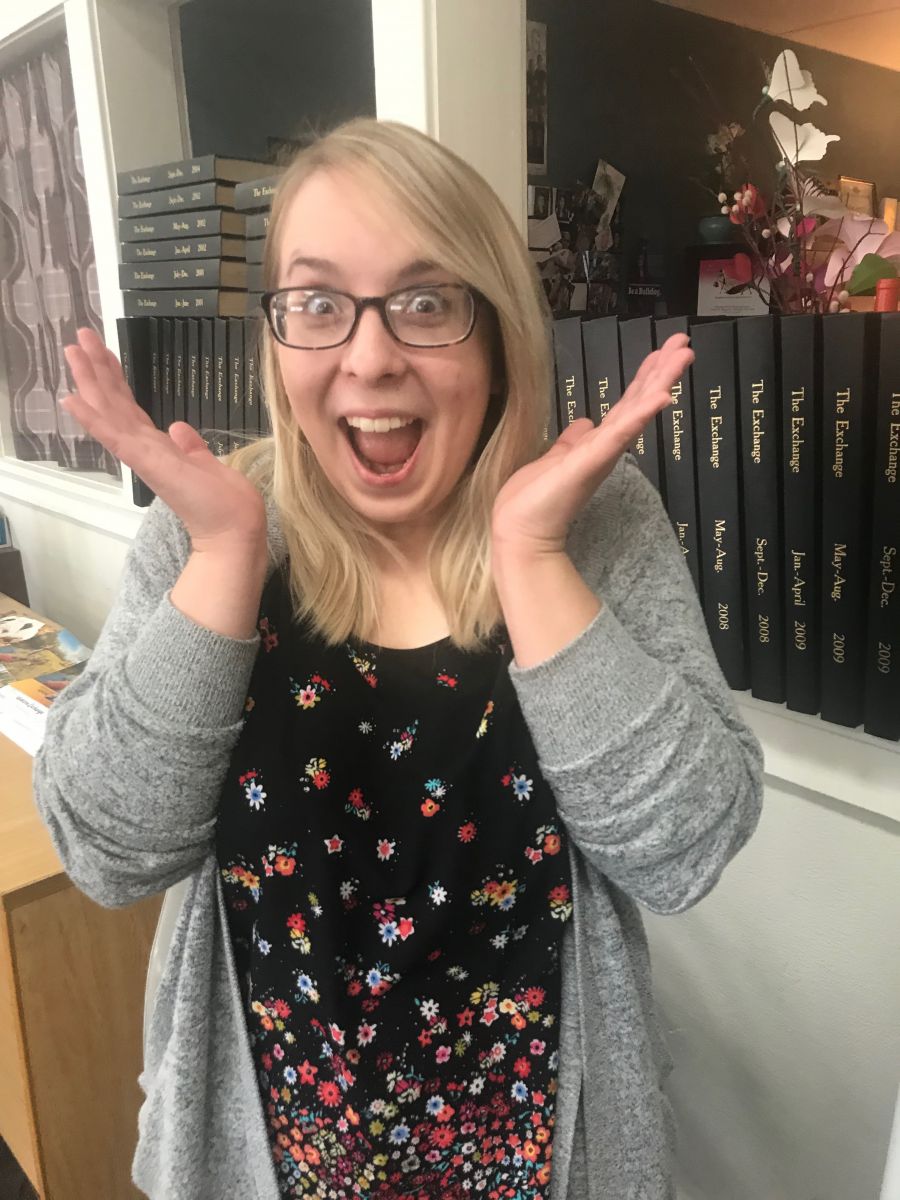 2018 Employee of the 2nd Quarter
Amanda davis, customer relations
• "She's awesome! I don't really need to say more, but I will. She did great covering for Renee (no small feat), did great running Horse Previews distribution, and continues to do great every day at covering our front lines. Like I said, she's awesome!"
• "Amanda quietly slipped into our office and quickly became a welcome presence at the front desk. She handles the multiple tasks given to her with ease and is willing to help out when necessary around the office. I think she makes a good addition to our small group."
• "She always does an awesome job dealing with customers & selling ads! And this quarter she took on even more by learning a good chunk of Renee's duties as her backup, and she did great holding it all together when the time came to do all of that on top of her own job responsibilities!"
• "Amanda is super smart, sweet, fun and was able to step in and be Renee's backup when we needed and did a super job!"
• "Quietly doing her job and learning new tasks, she is professional and dilligent. Dealing with walk-in customers, she takes a calm demeanor and a positive attitude. Amanda has all those qualities and more."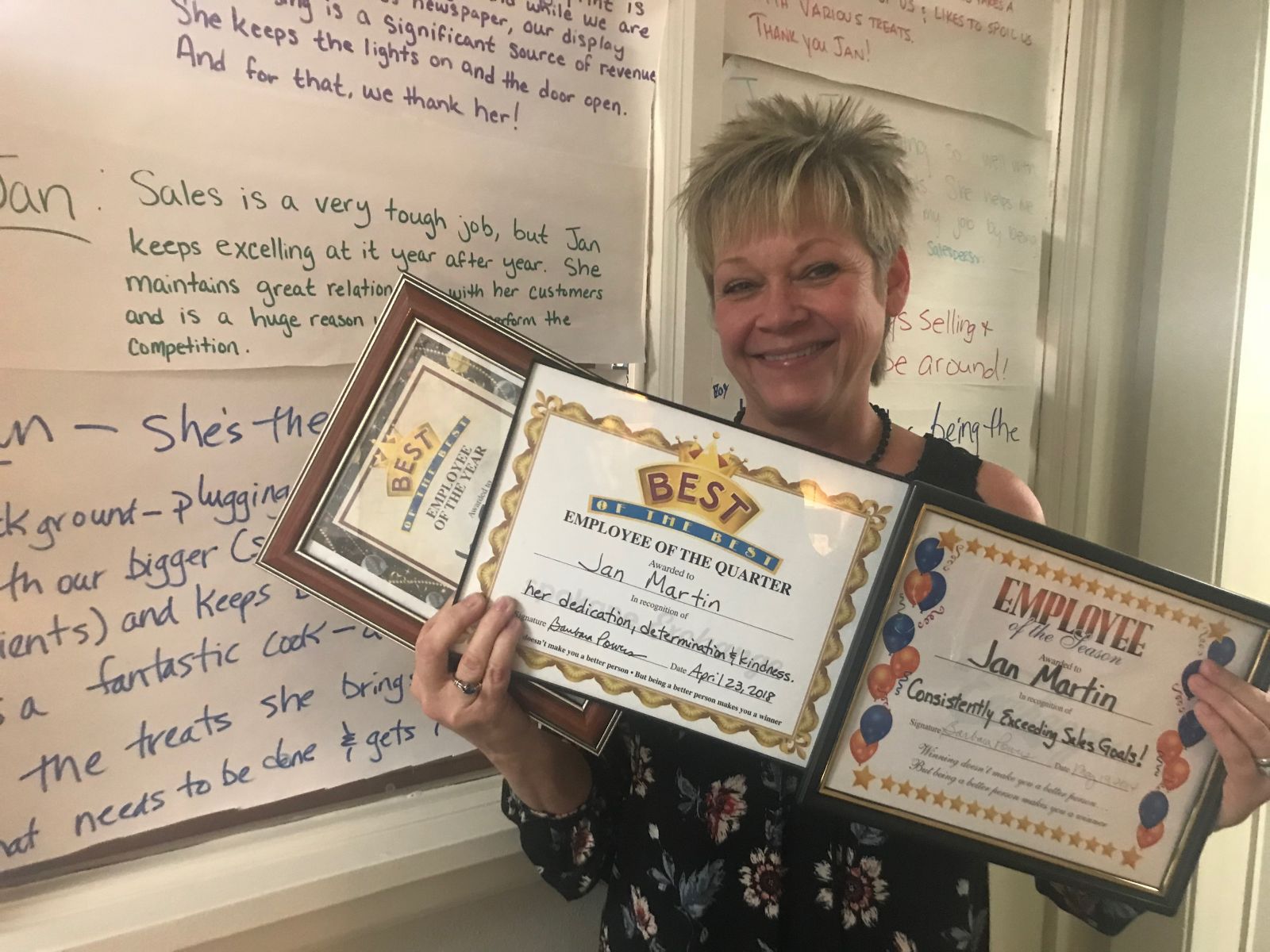 2018 Employee of the 1st Quarter
Jan Martin, the ad queen
• "Jan keeps a positive attitude with customers, keeping in touch and letting them know that we are still available for any help they may need even after being told they are cutting their advertising. She keeps going forward with not only her customers, but our staff as well, always with a kind word or deed."
• "Being in sales isn't an easy job. I feel that Jan truly shows great passion for her job and in every ad she does. In addition, she takes time out of her busy schedule to help others whether it be advice for sales or designing ads. I truly appreciate her and everything she does to make the Exchange successful and everyone feel as if they are part of the family."
• "Jan - Our Unofficial Office Mama! Not only does she keep us happy & fed, but she works hard every week to fill our paper with ads. Her dedication to make the Exchange great is something to admire and strive to emulate. She is a kind soul and I am very honored to call her a friend!"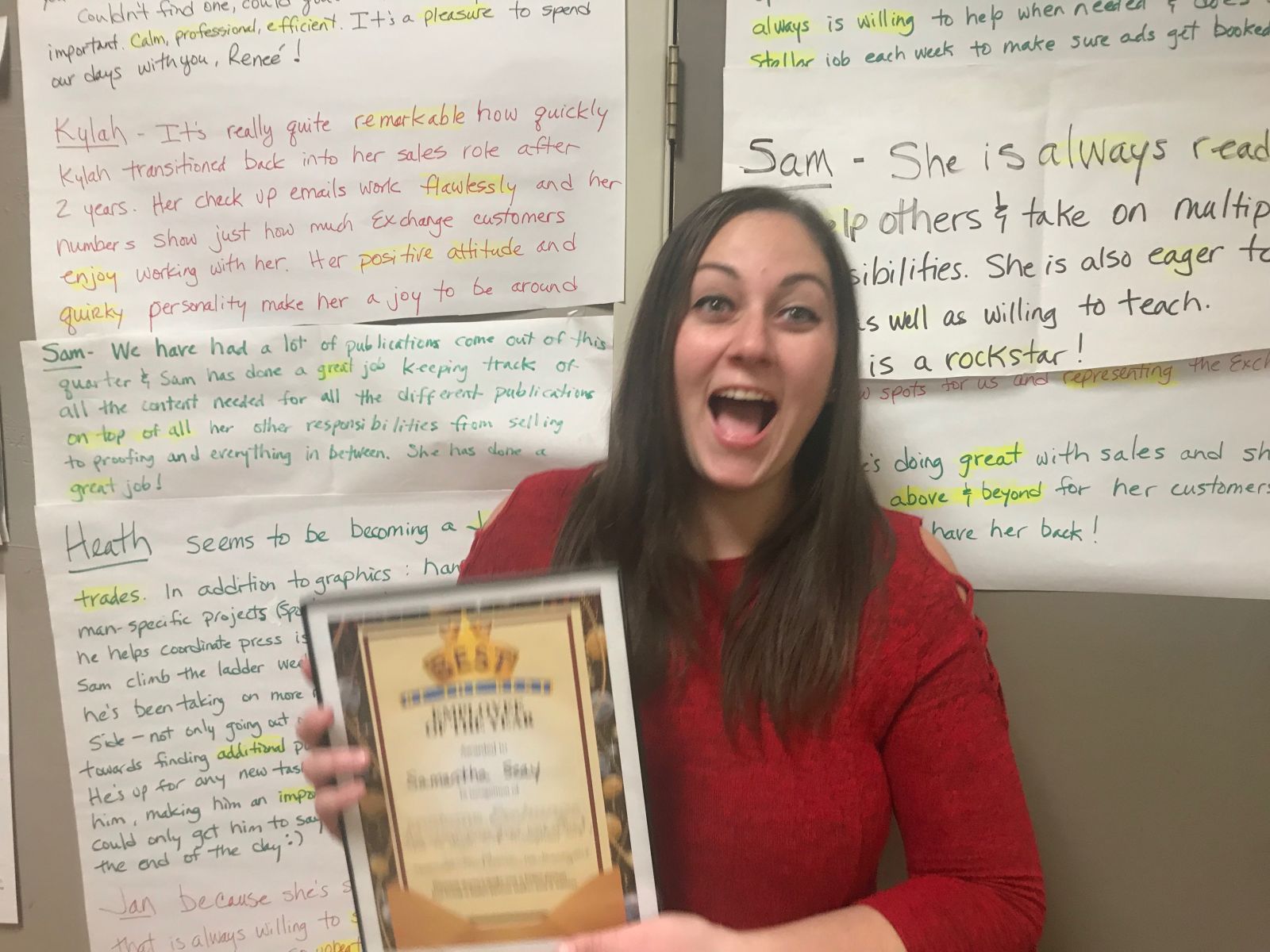 2017 Employee of the Year
Sam seay, Customer Relations, Content Editor & Everything else
Each year the Exchange staff reflects on the previous 12 months and takes a moment to honor an employee that has been exceptional throughout the year. This past year we honored Sam.
Sam doesn't really have an official job title that encompasses all that she does. You can learn that by reading some of the anonymous reasons Exchange employees have nominated her for this award.
• "I'm not really sure what her job description is, because it seems like it's everything."
• "I find it incredible the amount of plates she juggles on any given day and which she excels at. Content, taking ads, calling customers, social media, run sheets, proofing...not to mention acting as a face of the Exchange for those that walk in the door and call on the phone. Another job she does with aplomb, and one which some of us would struggle mightily with! Service with a smile, they say. That exemplifies Sam. Not only is she an impressive juggler, her colleagues call her out for her teamwork, work ethic and positive attitude."
• "My vote is for Sam. Sam has done incredibly well this past year, adjusting to multiple employee changes, training people as well as learning herself! Sam works well with her colleagues, is an awesome team player. She got content under control, created new fill ads, not to mention developed quite a list of sales contacts each week...doing all of this with a great attitiude and smile on her face! Sam is just great to work with all the way around!"
• Sam has a great attitude, great with customers and can always be counted on to get anything we may need done in a very timely manner. She brings organization to the chaos we sometimes face."
These are just some of the many reasons why her colleagues voted her our 2017 Employee of the Year.
In accepting this award, Sam had this to say...
"What they must remember is that I am only as good as the environment they provide. My great attitude is because of the wonderful people I work with on the daily. My willingness to help stems from my respect for my colleagues, the job and our owner. Without any of those wonderful things, I most certainly would not have this honor. Thank you to all."