Spokane Valley City Council Highlights
Your Connection to the City Council
We are pleased to bring you information on the City of Spokane Valley in the coming weeks and months. Our goal is to keep you informed as to the current issues and any future plans of this growing, thriving "young" city. – The Exchange
May 16, 2017...
The East Valley Community Coalition, a group consisting of parents, youth, school professionals, mental health counselors, and community leaders, presented their program on prevention (drug and alcohol consumption) and wellness. Their program is aimed at prevention rather than remedying the effects of bad decision making. In addition to its participation in the Washington Drug Free Youth Program (WDFY), the program also works to strengthen families, enhance life skills, and improve family ties.
The Eastern Washington Medical Reserve Corps exists to respond to disasters and medical emergencies and to assist in community events. David L. Byrnes, the Eastern Washington Coordinator, introduced the Corps to Council with a presentation on its purpose and composition. The Corps members are volunteers with skills in medical and non-medical areas such as doctors, nurses, behavioral health, veterinarians, chaplains, paramedics, EMTs, law enforcement, etc., all with the purpose of responding to disasters and assisting in community events, i.e. Bloomsday. Although the Corps isn't highly visible, they perform a necessary and valuable service.
Police Chief Mark Werner, together with Lt. Scott Szoke, Sgt. Brett Gores, and Deputy Craig Chamberlin discussed the challenges inherent in recruiting and retaining law enforcement officers for the Spokane Valley Police Department as well as the County Sheriff's Office. Not long ago, it was common to have hundreds of applicants for police positions. However, with the advent of social media, focused anti-police campaigns, and other options available to prospective applicants, the number of qualified candidates who apply has significantly declined to the point where there are very few police organizations who are not under-staffed. The Valley police department is one of those.
Mike Basinger, Economic Development Manager, and Ray Wright, Senior Traffic Engineer, described to Council the Six Year Transportation Improvement Program (TIP) that is required by state law. After a public hearing, the TIP is adopted. It must than be submitted to the Washington State Department of Transportation by July 1st of each year.
The TIP outlines potential transportation system projects looking forward six years, taking into consideration available funding, road condition, and additional needs such as sidewalks. An approved TIP must be in place in order to apply for grants which typically pay for 80% or more of the City's road projects.
Leading the TIP project priority list for 2018 is an improvement to the Sprague/Barker intersection ($462,000). This project is pending the results of an ongoing corridor study. Number two on the priority list is the Sullivan-Wellesley Intersection Improvement Project. This project is in anticipation of the Bigelow Gulch Road extension which will join with Forker Road, connecting to Sullivan Road ($1,172,000). Third on the list is a road preservation grind and overlay on Argonne Road between Broadway to Indiana ($570,000).
The Barker Road and Pines Road rail crossings are the next two projects on the list. Barker is still in the design phase, with a preliminary cost estimate of ($16,830,000). The Pines rail crossing will be an underpass similar to Argonne at an estimated cost of $18,695,000.
There are 27 projects on the list, prioritized based upon the prospects for funding and the timing of need. If funding should become available sooner than anticipated, the TIP can be amended to accommodate moving a project forward.
Please join us for the next Council meeting on Tuesday, May 23rd at 6pm.
May 9, 2017...
Following the reading of a proclamation designating May as Older Americans Month, and another proclaiming May 7-13, 2017 as National Travel and Tourism Week, Council settled into the business of awarding the contract to grind and inlay the roadway on Mission Avenue from Pines to McDonald. The project also includes pedestrian ramps, and an update to the signal system at the Pines Road intersection. The engineer's estimate for the project was $562,000, however Inland Asphalt's winning bid was considerably less at $473,300.
Final action on vacating 260 feet of Wilbur Road between Nora Avenue on the south and I-90 on the north was completed. Council was unanimous in its approval as was the Planning Commission's at its March 23 meeting.
In another move to improve the business development potential of the area east of the City's existing Industrial Park, Council approved advancing the vacation of two tracts, consisting of 30 feet on McMillan Street and 16 feet on an unnamed right of way. Neither will be improved as roadways in the future. Any ensuing access to the area will be via a different route. The Planning Commission also concurred by a 5-0 vote on April 13. This action sets the stage for enhancement of potential sites for industrial development.
Mayor Higgins reported on his trip last week to Washington, D. C., to pursue assistance with rail crossings on the Burlington Northern line at Pines Road and Barker Road. Armed with updated engineering designs on both Barker and Pines and revised cost estimates on Barker, he presented the revised plans to the chiefs of staff of Senators Murray and Cantwell, and Representative McMorris-Rogers.
Those plans were also presented to each elected representative individually, as they addressed the travel group, together with the City's gratitude for their very strong efforts on our behalf to solve our rail crossing problem.
Meeting with the Deputy Chief of Staff for Vice-President Pence, the Mayor presented the City's rail crossing problem as impeding its ability to more than double the size of the already largest industrial park between Minneapolis and Seattle. Further, the sheer number of trains, currently between 55-60 per day, increasing to well over 100 in less than 20 years, promises to create an impossible transportation gridlock across Spokane Valley. The Deputy Chief of Staff voiced concern for the City's problem and promised to see what might be done when the Department of Transportation was more fully staffed.
At the May 16 Council meeting, the City's six-year (2018-2023) Transportation Improvement Plan (TIP) will be presented, followed on May 23 by a public hearing.
On June 13 at 8:30am, the City will hold a Budget Workshop. Since the meeting will take up the better part of the morning, there will not be an evening Council meeting. The workshop is open to the public and presents a candid insight into the financial workings of the City.
Favorable weather is providing excellent working conditions as the new City Hall moves toward completion. At current rates of progress, the building may be available for an open house in early to mid-August.
May 2, 2017...
Sullivan/Euclid Intersection: Council voted unanimously to award the bid for the Sullivan/Euclid intersection project to the lowest bidder, Cameron-Reilly, at $1,401,035.50 which is 27% less than the engineer's estimate. This project will make the intersection last longer and withstand wear from heavy trucks by replacing the asphalt paving with concrete. Funding comes from a Federal grant of $1,351,600, a State grant of $657,750 and City funds of $321,125.
Reappointment of Jody Sanders to the Tourism Promotion Area (TPA) Commission: This County-wide commission advises the Board of County Commissioners on how to spend tourism promotion funds which come from Lodging Tax collected by hotels in the County. Commission members are appointed by the County Commissioners (3 members), Spokane City Council (4 members), and Spokane Valley City Council (3 members). Appointees are nominated by the Spokane Hotel and Motel Association from employees of lodging businesses. Council voted unanimously to reappoint Jody Sanders.
Roundabout Case Study Report: Some people love them. Other people hate them. Case studies by the Washington State Department of Transportation (WSDOT) point out advantages of roundabouts as compared to traffic lights and stop signs. Proponents claim that roundabouts can "…reduce potential collisions by reducing speeds and minimizing T-bone and head-on collisions… promote continuous flow of traffic and can typically handle more traffic than other controlled intersections…"
City Hall Update: Still on schedule with a move in date of August 31, 2017 with final completion expected by September 30, 2017. The project is still within its budget of $14.4 million. The annual bond payments will be $35,000 less than the lease payment.
Future Agenda Items:
Police Chief's report on police officer recruitment and retention.
2018 - 2023 Transportation Improvement Plan (TIP).
Annual Budget Workshop (6/13/17; 8:30am to 4pm).
Farmers' Market discussion.
Parental rights regarding vaccinations and other decisions.
Police Chief's report on sex trafficking and related crimes in Spokane Valley.
Term limits for Council Members.
Prepared by Councilman Ed Pace, 570-4394
April 25, 2017...
After Pastor Joe Pursch of the Valley Fourth Memorial Church offered the invocation, Boy Scouts from Troop 431 led the meeting in the Pledge of Allegiance. Mayor Higgins read the City proclamation designating May 20th, 2017, as LEMONADE DAY IN SPOKANE VALLEY.
Lemonade Day is a Greater Spokane Valley Chamber of Commerce educational event focusing on providing children with the opportunity to learn and apply entrepreneurial skills necessary to become successful contributing members of their communities by operating their own business. So, on May 20th, when you see a lemonade stand, make it a point to stop and support your local diminutive entrepreneur.
In other business, Inland Asphalt was awarded the bid for the Indiana Avenue Street Preservation Project which will grind and inlay the drive lanes between Indiana Avenue between Mirabeau Parkway and Evergreen Road, as well as updating pedestrian ramps in the Mirabeau Parkway intersection; updating signals at the Mirabeau Parkway and Evergreen Road intersection; and installing ITS conduit between the intersections on the north side behind the curb. Inland's successful bid was $445,868.
In another bid award, the 9th Avenue Sidewalk Project which will, between Raymond Road and University Road, widen the south half of the street to 20 feet and install concrete curb, gutter and sidewalk on the south side of 9th Avenue, Bacon Concrete, Inc. was the low bid at $170,658.
In an administrative report, Council was updated on the section of Appleway Trail between Sullivan and Corbin. In addition to a continuation of the paved portion of the Trail, the design team also focused on ideas for the historical aspects on that section of the trail. The overall theme for that section concentrates on the geologic era of the Missoula Flood, its effect on our area including the Spokane River and our aquifer.
Also included were ideas for signage, direction to other interesting points in the City, and ancillary facilities such as rest rooms, parking, etc. Final design submittal is scheduled for May, with solicitation of bids in June. Construction is planned for July-September. Total project cost is estimated at $2,130,000 with $1,783,000 funded by grants and $347,000 contributed by the City.
The new City Hall is progressing nicely toward completion with the weather adopting a more cooperating mode of operation. The planned occupying schedule calls for staff to begin moving in by sections in the month of August and beyond, with the move entirely completed by the end of September.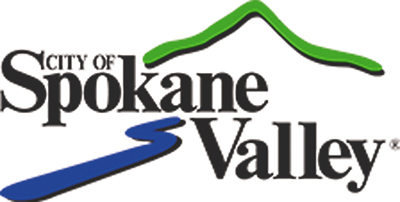 The City Council holds more formal meetings the second and fourth Tuesday of each month and holds Study Sessions on the first and third Tuesday of each month. Agendas, minutes and background materials can be found on the City's website www.SpokaneValley.org by 5pm the Friday before each meeting.
Contact City of Spokane Valley:
11707 E. Sprague Ave
Suite 106
509-921-1000
SpokaneValley.org