Sportsmans Warehouse Braggin' Board

---
Share your pictures of your outdoor pursuits!
Drop off your 4x6 photos and stories to our local offices at 6720 N Division Street, Spokane WA and 15118 E. Indiana Avenue, Spokane Valley
or post online at www.Sportsmanswarehouse.com. Contact Us at 509-487-0700 or 509-598-7300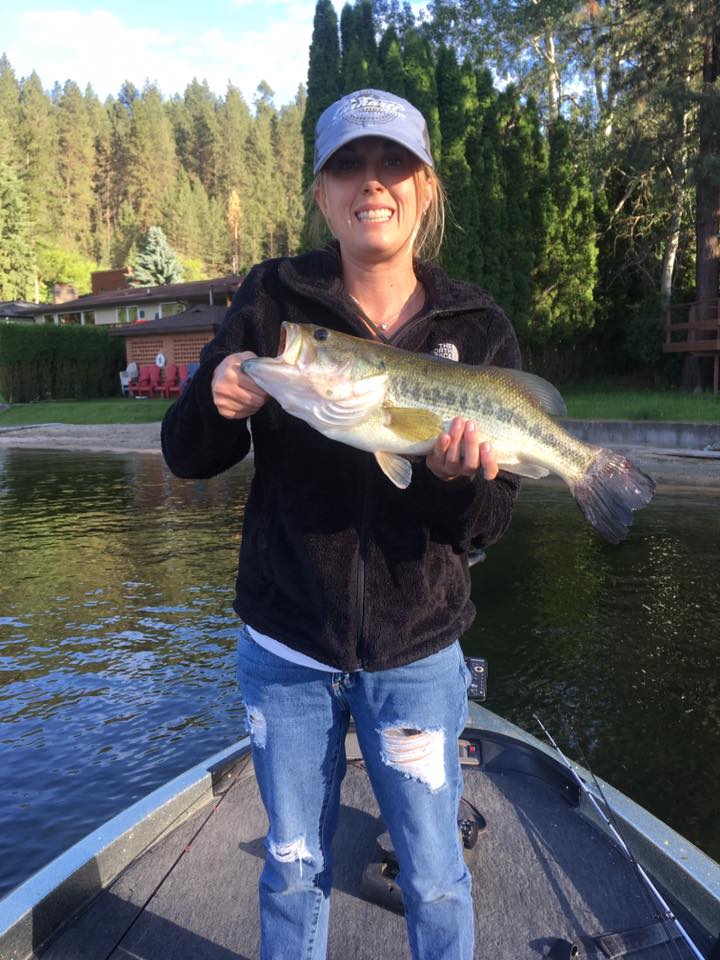 Nicole Askins
Cody Lus
NOW! Two Sportsman's Warehouse Locations to Serve Your Needs!
6720 N. Division St. (509)487-0700
15118 E. Indiana Ave. (509)598-7300
Fishing Report
CDA/North Fork: Good – Fishing has consistently been good. Anglers are using dry bugs such as hoppers and ants. The water levels are still fairly low.
Clark Fork: Good – Caddis flies and hoppers are currently the best choices for fishing this river. Though, there has been feedback on anglers using purple haze flies to catch fish.
Clearwater: Good – Catch and keep steelhead will be closed on Aug 17th . Due to low a run steelhead counts. Fall Chinook salmon season opened Aug 18th from Washington State line to the Memorial Bridge.
Columbia River: Good – Walleye fishing has slowed down as they are going into spawn soon. The smallmouth bass fishing is still doing great however. A perch or shad colored crank bait would be a great choice.
Grand Rhonde: Good – Bass fishing has been good using tube jigs and curl tail grubs. Look for deeper pools in the river to find large numbers of bass. This river is subjected to Selective Gear Regulations – single barbless hooks only, no live bait or scents can be used.
Little Spokane River: Good – Hoppers are the best bug to be using on the Little Spokane. Lots of anglers reported low water levels and fish rising to strike. A dropper method would work great too.
Spokane River: Good – Flies to be using are hoppers, caddis, midges, and soft hackles. Nice red-band trout are being caught throughout many different sections of the river.
Snake River : Good – Sturgeon fishing has been good. Best baits to use are green label herring and sturgeon candy squid. Bass fishing has also been good using tube jigs and curl tail jigs. Early morning and late evening are the best times.
St. Joe River: Good – Fishing has been great on the St. Joe, anglers are using dry bugs and hoppers like you would a lot of other areas, but one color that has been getting a ton of positive feedback is peach/tan colored hoppers.
Yakima River: Good – Anglers are using a 5wt rod to catch the many trout in the Yakima River. Dry bugs are working great, and anglers are also using some other patterns like stoneflies to catch fish as well.
Rocky Ford Creek: Average – Fishing is alright. Reports are showing the best bite to be coming from nymphs and caddis flies, early in the day before it gets too hot.
Amber Lake: Good – Fish are becoming shallower in the water column due to the temperature cooling down. Small nymphs like the prince nymph would be a great choice.
Badger/Williams Lake: Good – Trout fishing is consistently good right now. Fish are being caught on everything from night crawlers to power bait.
Banks Lake: Good – Walleye fishing is doing okay right now, though it has slowed. A bottom walker and a night crawler would be an effective method to catch these fish before they head into spawn.
Clear Lake: Good – Great fishing right now from both the bank and on the water. Spinners and flatfish are working well.
Downs Lake: Good – Bass fishing is good, try using a white spinner bait or chatter bait to catch them. Lots of pan fish are being caught off of small jigs and corn.
Eloika Lake: Good – The weeds are starting to decline, and more bait opportunities are opening up. Top water still works great, but fishing a small swimbait or jig would work good too.
Lake CDA: Good – Smallmouth bass are still hitting hard right now, moving bait like a crank bait or jerk bait would work excellent.
Hauser Lake: Good – Best fishing seems to be early in the day before the weather warms up. Good bass fishing. Try a spinner bait.
Long Lake: Good – Great spots all throughout the lake to catch the bass, walleye, trout, pike, and many more species that are swimming around. A drop-shot method is going to produce a lot of nice fish.
Loon Lake: Good – Kokanee fishing has slowed due to the temperature changes, however they are still being caught using glo hooks and maggots.
Newman Lake: Good – Tiger muskie fishing has been decent while using a swimbait or some type of bait fish presentation. Bass fishing is doing good too. Try using a small crank bait or spinner bait to catch the largemouth.
Pend Oreille: Good – North and south of the bay seem to be the best fishing spots. Anglers reported using a 4.5 Apex at around 70 feet of water to catch nice fish. Also a blue/silver flasher would work great too.
Lake Roosevelt: Good – Lots of boat traffic on Roosevelt and anglers have reported it taking an hour or so just to launch. However the fishing is good and the bass are biting. Try using a drop-shot and a robo worm to catch them.
Silver Lake: Good – Fishing around the structure seems to be the best bet, try flipping the docks and weedy areas.
Sprague Lake: Good – Anglers are slow trolling and catching fish in around 18 feet of water.
Waitts Lake: Good – Great largemouth bass fishing around the docks. Try using a green pumpkin senko or twitching a finesse jig. Trout fishing is great with a black rooster tail.